What Golden Books?
Unbeknownst to me, most folks in A.A. have never heard of the Golden Books. Of course, I'm basing this conclusion inductively from a small representative, nonetheless the lack of online chatter and in the rooms blabber is enough supporting evidence.
So What? Who Cares?
I do believe the fellowship has limited itself by detaching from and mostly abandoning these wee little masterpieces. Not too long ago they were MUST READS, now the "musts" are simply accompanied by confusion.
So what does A.A. insist? What is the must of the MUSTS? Of the newcomer and the veteran the Big Book comments,
For a time he may try to hug the new treasure to himself. He may not see at once that he has barely scratched a limitless lode which will pay dividends only if he mines it for the rest of his life and insists on giving away the entire product.
Whereas the Big Book breaks the surface level and gives you the spiritual-mining-for-dummies, the Golden Books make you proficient in your craft. We're talking heavy machinery, the center of the earth, B.P. drilling for soul satisfaction type of proficiency.
---
What Happened? Why The Dip In Popularity?
Undoubtedly, the religious nature of these books is what led to their abandonment. In a post-catholic America, they seemed no longer relevant or helpful. However, nothing could be further from the truth.
Briefly examined the titles:
The Golden Book of Sanity

The Golden Book of Attitudes

The Golden Book of the Spiritual Side

The Golden Book of Resentments

The Golden Book of Principles

The Golden Book of Living

The Golden Book of Excuses

The Golden Book of Sanctity

The Golden Book of Happiness

The Golden Book of Passion

The Golden Book of Decisions

The Golden Book of Action

The Golden Book of Tolerance

The Golden Book of Sponsorship
The titles themselves present no religious overtones. Indeed, the above are qualities in which every person in recovery should strive to demonstrate. So what's the qualm?
The Author Is Religious – The Content Is Religious
The author is Fr. Ralph Pfua. Yes, that is correct – a Catholic priest, perhaps the first in A.A, is the man who penned these classics.
Formally known as Fr. John Doe (how apropos), it's little wonder that A.A. which is not anti-religious in nature but keeps a healthy distance from it (in theory), has similarly created a chasm between itself and the Golden Books.
Moreover, the gulf is not unreasonable, for the books have a heavy Catholic lingo and theological orientation but it is written for the laity (not scholarly or designed with the clergy in mind) and specifically non-religious folks in 12-Step recovery – yet the religious speech is enough to stir inordinate prejudice and ruffle a few feathers.
Can The Religious Divide Be Bridged?
Whereas IHOP is known for its pancakes, A.A. is known for its slogans. Yet, not all are helpful; sometimes they require extra attention and explanation. The one I want to target in this post is, "If it doesn't apply, let it fly."
First, let me explain why I'm not a big fan, then let me explain what I believe would be more helpful. Additionally, I will demonstrate the how and the why of my slogan and how it helps shape one's attitude towards literature and authors, specifically the Golden Books which are the focus of this review.
---
If it doesn't apply, let it fly is a slogan intended to enable one to shake off unhelpful criticism.
---
The Big Book notes,
"Selfishness – self-centeredness! That, we think, is the root of our troubles. Driven by a hundred forms of fear, self-delusion, self-seeking, and self-pity, we step on the toes of our fellows and they retaliate. Sometimes they hurt us, seemingly without provocation, but we invariably find that at some time in the past we have made decisions based on self which later placed us in a position to be hurt (63)."
Thus, if the criticism is to be rational it demands further rational investigated in order to determine its validity (at first glance our instinct is to dismiss it i.e. let it fly, which is irrational).
Without the assessment and consideration the slogan can become a license to exclude oneself from doing anything challenging, specifically self-criticism. This is doubly dangerous for the burgeoning soul in recovery.
Instead, I prefer "If it doesn't apply, ask why." This is not so easily evaded, it demands self-examination and begets valid conclusions. After the assessment one can properly determine if the critique in question does or does not apply but either way the investigator would have learned a great deal about his or herself and others.
---
How Does This Pertain To The Golden Books
Most people I engage are not Catholic and therefore conclude, quite hastily, that The Golden Books do not apply to them. But the conclusion reached is irrational: not one part of the content is applicable to one's life! (utter nonsense).
If one were to read the books and merely understand that Fr. Ralph's vehicle of transcendence is Catholicism they could move forward and engage the content without being the critical one. EVERYONE HAS THEIR OWN VEHICLE (see 12-Step Alternative Article)
So What Is The Content?
The content is exhaustive; at least pertaining to 12-Step philosophy. Pfau covers practically every dilemma a newcomer can go through and a seasoned 12-Step practitioner. The books are actually booklets which were handed out at each of his spiritual retreats. Retreats that were focused almost exclusively on the AA journey. These spiritual getaways were so popular that the books eventually found publication and were greeted enthusiastically by an eager A.A. audience
Every nuance and every nook and cranny of the 12-Step ethos is covered in great detail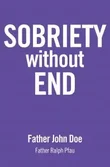 and fine comedic execution. I highly recommend you read this content whether you are in recovery or know someone in recovery; especially if you desire to grow and expand your life spiritually. However, if you are in 12-Step recovery you NEED to read these! You can either buy the classic Golden Books Set are you can find them within two books published by Hazelden compiling all of Fr. Pfau's work:
Timmy G (2019)
TimmyG@sobertostay.com

If you enjoyed this post leave a comment below. If you have any questions, comments, or disagreements please leave a comment below. The purpose of this blog is to engage in topics/books/etc. together, to challenge each other to be more and to grow. If you prefer just shoot me an email.