7 Steps To Start Living For Yourself…Without The Guilt
"Happiness is our natural state. Happiness is the natural state of little children, to whom the kingdom belongs until they have been polluted and contaminated by the stupidity of society and culture. To acquire happiness you don't have to do anything, because happiness cannot be acquired. Does anybody know why? Because we have it already. How can you acquire what you already have? Then why don't you experience it? Because you've got to drop something. You've got to drop illusions. You don't have to add anything in order to be happy; you've got to drop something. Life is easy, life is delightful. It's only hard on your illusions, your ambitions, your greed, your cravings. Do you know where these things come from? From having identified with all kinds of labels!"

Anthony De Mello
Have you been told that living life for yourself is a case of terminal selfishness? Well, you're not alone.
Scores of unhappy people accept this faulty reasoning. The real question is are you ready to drop it?
Before I explain the 7 airtight ways to drop this nonsense, permit me to illustrate the utter ridiculousness in the assumption that it's selfish.
The Oxygen Mask
One common analogy is the instruction manual on an airplane. During an inflight emergency oxygen masks fall from the ceiling of the plane.
Hopefully, you've never experienced this but I'm sure you've seen it happen in the movies.
The manual is explicitly clear: put the oxygen mask on.
The air at high altitudes is thin and oxygen levels are very low. To compensate, aircraft are designed with clever systems in place to keep cabin pressure at a level equivalent to an altitude of around 5,000-8,000 feet.
If this system fails and you're without an oxygen mask you'll likely be rendered unconscious.
If you have any small children the instructions are likewise incredibly clear: place the mask on yourself first then on your children.
If you pass out you'll be of no assistance to your little ones!
In like manner, in life we must put the oxygen mask on first – we must live for ourselves.
This isn't intended to be a step into unbridled selfishness. Rather, it's the first step towards maximum effectiveness and usefulness to the world.
Ironically, when you start living for yourself you optimize and amplify your love for everything and everyone.
Failing to do so is equivalent to putting the mask on your children first, effectively removing yourself from the equation.
Now, what can be more ridiculous than that?
How Do I Start Living My Life?
There is a common misconception that only those who are single with minimal baggage can live autonomously, as they see fit.
I'll be the first to say it: that's stupid.
If the premise above is true, that living for yourself optimizes your relationships with others, then if you have a spouse or children it's even more paramount that you live your life for yourself!
What the hell are we teaching our children if we merely live in accord to the expectations and demands of others?
We inadvertently get them addicted to the drug called approval.
They live a life of insecurity only attached to those who provide or threaten approval.
Is this really living? Chances are if you're reading this article, you understand what I'm saying intimately.
What we want to have and model for our children is a healthy differentiated self.
The Differentiation Of Self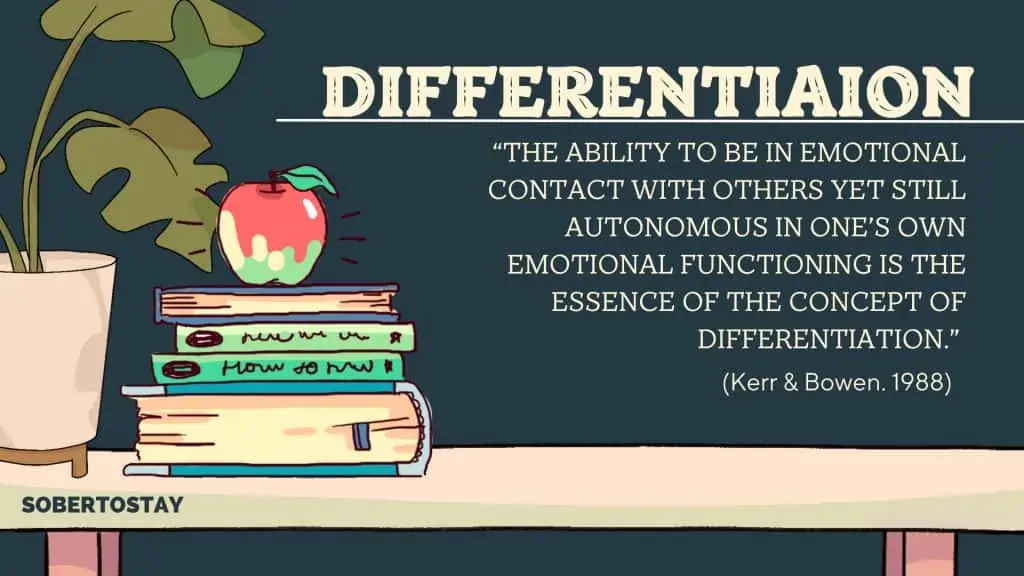 The less developed a person's "self," the more impact others have on his functioning and the more he tries to control, actively or passively, the functioning of others
People with a poorly differentiated "self" depend so heavily on the acceptance and approval of others that they either quickly adjust what they think, say, and do to please others or they dogmatically proclaim what others should be like and pressure them to conform. Bullies depend on approval and acceptance as much as chameleons, but bullies push others to agree with them instead of with others.
A person with a well-differentiated "self" recognizes his realistic dependence on others, but he can stay calm and clear-headed enough in the face of conflict, criticism, and rejection to distinguish thinking rooted in a careful assessment of the facts from thinking clouded by emotionality. Thoughtfully acquired principles help guide decision-making about important family and social issues, making her less at the mercy of the feelings of the moment. What she decides and what she says match what she does. He can act selflessly, but his acting in the best interests of the group is a thoughtful choice, not a response to relationship pressures. Confident in his thinking, he can support others' views without being a disciple or reject others' views without polarizing the differences. He defines himself without being pushy and deals with pressure to yield.
In Family Systems Theory, Dr. Murray Bowen developed the scale of differentiation. "The act of differentiation implies that one is moving in a direction to be a more autonomous self while still being a part of the social group. Bowen developed a scale of emotional maturity so that we might clarify the variables and the process that lead to emotional maturity and its opposite emotional regression."
On the lower end of the scale, relationships are in a state of fusion.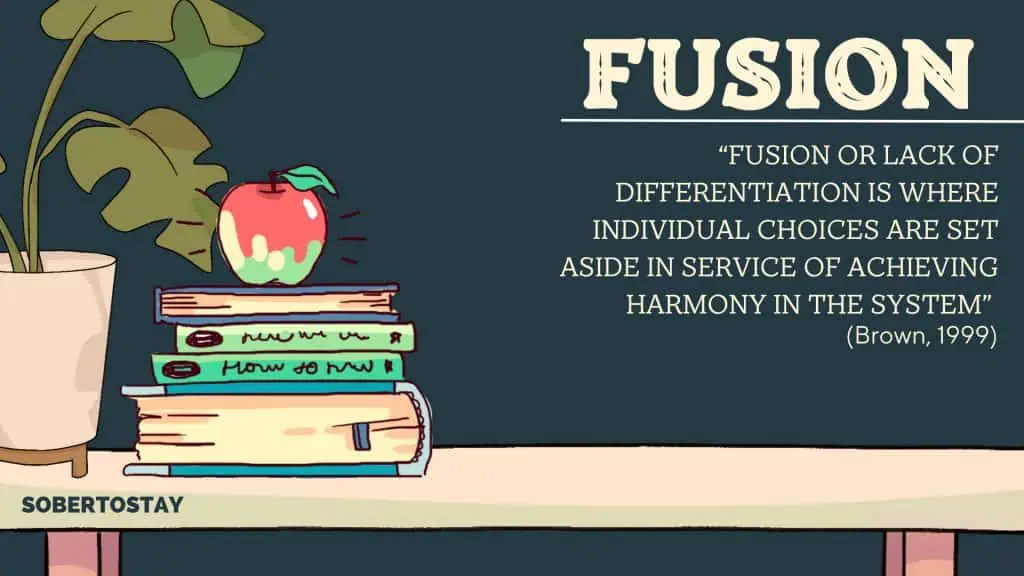 Fusion is the process of combining two or more distinct entities into a new whole. Therefore, an individual in a state of fusion by definition has largely lost their personal independence and sense of self.
In other words, the fused self is completely absorbed into the social sphere that surrounds it. In this condition, one is completely addicted to approval.
Naturally, as one emotionally matures and develops there is a tendency to sway back and forth between breaking free from the fused herd life to total integration and acts of bad faith.
Bad faith is one of those terms that can stick with you. Coined by philosopher Jean-Paul Sartre, it denotes an individual who surrenders their personal values to the values of the group.
Sartre used it to explain and denounce citizens of Germany that idly stood by as the Nazi regime exercised evil and genocide.
Bad faith is always due to social pressures, but it by no means negates personal responsibility.
One cannot truly be free and simultaneously fold to social pressures.
A healthy differentiated self is characterized by the individual who has their own personal beliefs, values, and convictions and can also live harmoniously in the group, even if their values are at odds with the masses.
They stand up for what they believe and can do so with courage and integrity.
This person has struck a perfect balance between personal autonomy and communal integration.
In self-improvement circles, this is known as the authentic self.
Removing The False Self
Living authentically is a personal choice. In other words, you decide:
What to do with your time
What career you'll pursue
Who you're in a relationship with and whether to commit
How to spend, save, or invest the money you earn
Whether to become a parent and how to parent your children
Pepper whatever you favor onto this list!
At this point I want you to start really examining yourself. I want you to observe precisely where you are right now in terms of autonomy and integration. Where do you fall on the scale?
---
⇒Complete the Differentiation Of Self quiz to see where you fall on the scale
---
Pay attention, because I'm going to show you exactly how you can climb the ladder of differentiation.
Tip: Don't compare yourself with others, the process is your own.
Climbing The Ladder of Differentiation
1. Get to Know Yourself Better
Socrates, the so-called gadfly of Athens, once declared that the unexamined life is not worth living.
Why such a bold declaration? Life unexamined is like a boat with no engine or anchor tossed around aimlessly by the waves.
You become a product of chance. A moist robot. Not very attractive, right?
The truth is you won't fight for yourself if you don't know who you are.
You Need To Become Familiar With Yourself!!
You would never spend every waking minute with strangers and not get to know them.
Rather, you'd speak with them, listen to them, ask them engaging questions.
You'd learn about their values, their motivations, their dreams, hopes, and tragedies.
You'd examine their life and in doing so create a connection, a bond, a new relationship.
Don't you find it odd that even though we are such inquisitive beings, we rarely do this with ourselves?
Ultimately, we are the only animal that asks questions yet never asks the most important ones.
I'm Not Even Worth It…
Perhaps many of us reach the conclusion that getting to know ourselves isn't worth it. As if our value as human beings is minimal.
Yet, this is an odd conclusion to reach prior to an evaluation.
It's basically the same thing as a little 3-year-old redhead blue-eyed whipper snapper denying food because it looks weird.
Unfortunately, a lot of weird-looking food is absolutely orgasmic to the palate.
Do you blame the child? No. But you'd tell an adult to grow the hell up.
Likewise, an accurate and honest self-appraisal takes a great deal of growing up.
This certainly doesn't mean you need to know everything about yourself.
No one is born with perfect self-knowledge nor is it even something you can achieve this side of heaven.
It's a process, not an event.
Make learning about you a priority. Identify activities that can assist in this process such as meditation, devotions, mindfulness, and cognitive therapy to name a few.
As you become familiar with yourself, you'll start to understand your values, habits, and generalizations and how these things control your life.
This is the beginning of living freely. This is the start of living for yourself.
2. Get Clear on What You Want
If you don't know what you want, you probably won't get it.
That's a reasonable assumption.
Focusing on what you want doesn't invalidate others. It doesn't automatically communicate that what other people want isn't important to you.
Rather, the point is that other people's wants and desires should not take priority in your life.
The Mind Cannot Process A Negative
As an aside, it's not helpful to talk about what you don't want.
It really doesn't make much sense at all and it doesn't register in the brain.
For example, right now I want you to not think of a pink elephant.
What did you just think, what popped up in your mind's eye? A pink elephant.
See, not very helpful.
Could you imagine a taxi driver asking his passenger where they want to go and receiving "not the airport" as a response?
It fundamentally communicates nothing and adds nothing resourceful to the mix.
Write about what you want.
Talk about what you want.
Find other people that have what you want and craft relationships around that singleness of purpose.
Don't emphasize what you don't want.
Uncovering What Your Real Wants Are
Stephen Covey in his book The 7 Habits of Highly Effective People provides a thought experiment called the Funeral Exercise that can enable you to uncover precisely what's most important to you.
In your mind's eye, see yourself going to the funeral of a loved one. Picture yourself driving to the funeral parlor or chapel, parking the car, and getting out. As you walk inside the building, you notice the flowers, the soft organ music. You see the faces of friends and family you pass along the way. You feel the shared sorrow of losing, the joy of having known, that radiates from the hearts of the people there.
As you walk down to the front of the room and look inside the casket, you suddenly come face to face with yourself. This is your funeral, three years from today. All these people have come to honor you, to express feelings of love and appreciation for your life.
As you take a seat and wait for the services to begin, you look at the program in your hand. There are to be four speakers. The first is from your family, immediate and also extended —children, brothers, sisters, nephews, nieces, aunts, uncles, cousins, and grandparents who have come from all over the country to attend. The second speaker is one of your friends, someone who can give a sense of what you were as a person. The third speaker is from your work or profession. And the fourth is from your church or some community organization where you've been involved in service.
Now think deeply. What would you like each of these speakers to say about you and your life? What kind of husband, wife, father, or mother would like their words to reflect? What kind of son or daughter or cousin? What kind of friend? What kind of working associate?
What character would you like them to have seen in you? What contributions, what achievements would you want them to remember? Look carefully at the people around you. What difference would you like to have made in their lives?"
If you're really listening to yourself you'll discover:

What matters to you.
What makes you feel great and proud of yourself.
What gives meaning to your life.
The more you live that way, the more identified you'll be with your authentic self.
"Beginning with the end in mind," says Covey, allows you to know how you should act today.
You're Your Own Person
To clarify, what you want does need to be identical to your spouse or your parents.
It's perfectly okay to want different things.
What's not okay is to force your wants onto someone else.
Chances are that if you come across this article, it's because you're not living for yourself and someone in your life is pushing their wants onto you.
You don't have to let them but you also don't want to mimic the very thing you dislike.
3. Practice Being Your Authentic Self.
As you identify more with your authentic self, I invite you to begin practicing authenticity on a daily basis.
For some unknown reason, it doesn't come naturally so it takes work.
As the late Fr. Ralph Phua once commented, "if you're not satisfied you need to start practicing being satisfied!"
Such common sense often eludes us. But no longer.
Begin using your voice, lift it to new heights.
Express your personality, throw caution to the wind. The only filter you need is the one for your coffee machine!
Share the real you, what you truly think about something; say it with conviction and passion."
Be honest.
Be real.
Tap into your own innate wisdom.
Avoid what the sages of old referred to as the "thinking mind," that obnoxious internal voice with its incessant cravings and rampant insecurity.
Listen instead to your authentic inner voice for deeper insight.
This demands that you abandon the familiar zone, take some risks, and live wholeheartedly.
It's true, the majority of thoughts are gobbledygook.
They are like bubbles from a bubble machine – transient and ultimately meaningless unless we entertain them and inject them with life.
With time you'll be able to distinguish between random nonsense from the thinking mind from the insights of your inner wisdom.
Tip: Usually, good feelings will be generated that help push you in the right direction.
4. Define Your Own Terms
This is important, especially if you are going to be able to separate the unhelpful thoughts from the resourceful ones.
I warn you, it's easier said than done.
Once you are committed to living according to your idea of happiness and success, not someone else's, you have to specifically define and refine your idea.
It becomes necessary to define terms: happiness, joy, love, passion, satisfaction, fulfillment, and innumerable others.
What do those words mean to you?
What do you want more of in your life?
What could you happily do without?
No one can define these for you. Sure, you can adopt the definitions of others, but this is optional.
No one can possibly tell you what happiness is for you or what creates personal satisfaction and fulfillment.
You alone set these parameters.
Any deviation can only be brought about by your consent.
Don't ever forget it.
I don't want to be overly philosophical but the world is only viewed through the concepts or schematics we've been programmed with.
To see a new world, you need new programming, new concepts.
It's a worthwhile endeavor to sit, reflect, and contemplate the meanings of these ideas.
You might find that an entirely new universe is simply an insight away.
5. Identify Your Core Values
Now you know yourself. You've elicited your values and defined precisely what things mean to you. This new level of understanding provides critical information on what motivates and drives you.
To shift to a whole new set of dominating motives you need to "act your way into right thinking" by emphasizing your personal values.
This is done by stressing the critical areas of your life: relationships, career, spirituality, health, fitness, etc., and discovering the primary means to prioritize those areas.
Print this out and place it somewhere you can see it every day: my life, my priorities.
Not one single person has the right to tell you what your values and priorities should be.
You can give them that right, such as an authority figure such as a mentor or coach, but it should always be remembered that the right is given, it's not inherited.
If you live your whole life in service to the values and ideals of another, you'll never feel truly free.
You were not designed to do someone else's bidding.
You were created with a specific purpose in mind.
Thus, you are obligated to fulfill that task.
Your originality is a gift from the universe. How you use it is a gift to others.
Don't allow yourself to fall by the wayside due to social pressures.
6. Design a Life You Want to Live
Steven Covey brilliantly admonished us, "The key is not to prioritize what's on your schedule, but to schedule your priorities."
At first, I thought it was a pithy saying with zero meat. Then my inner wisdom provided me with a metaphor that completely captured the substance of Covey's words.
The short of it is that we prioritize our schedule by placing ourselves in the right conditions.
The Sunflower
Imagine you place a sunflower seed in your hand.
Now shower it with positive vibes.
Take a picture of it and get your Facebook community to contribute to the vibe flow.
Hell, sing sweet melodies to that yet-to-be yellow behemoth.
Will it grow? Absolutely not!
Why? Because that's not how shit works.
If you want the sunflower to grow you need to place it in the right conditions: fertile soil, adequate sunlight, and sufficient water.
You might think it's just been far too long and your habits are too far ingrained.
Can't teach an old-dog-new-tricks-type mentality, I get it.
But you know in your heart that's a load of malarkey.
Researchers once planted a grain seed that sat alone and forgotten in an Egyptian pharaoh's tomb for two millennia.
Nonetheless, once they placed it in the right conditions, it grew.
Even after being fundamentally dead for two thousand years.
What Are The Right Conditions?
It begins by restructuring your day in such a way that allocates more of your energy and time to the areas that matter most to you.
In other words, seek to identify and cultivate habits that honor your priorities.
Sit back and do a 30-minute reflection.
What would the perfect day look like from start to finish? From when the alarm goes off to its reset in the PM. Dusk till dawn.
If you were living fully on your own terms how would you visualize this day unfolding?
Leave no stone unturned.
Once your vision is complete, begin to structure your day in such a way as to make this come to total fruition.
Make a schedule and stick to it!
Remember, this is life on your terms!
7. Do More of What You Enjoy
This step comes with a caveat: be mindful of cravings.
The Buddhists have a radical concept for this that they refer to as Taṇhā. It's an inordinate thirst, desire, longing, and greed and can be either physical or mental.
Desire becomes a lens through which you see the world.
It's more or less an attachment to how things should or need to be.
A superficial example is individuals who believe they need to travel in order to be happy.
Maybe they take numerous pictures, crank them through filters, and post them on social media to demonstrate how cultured and well-traveled they are.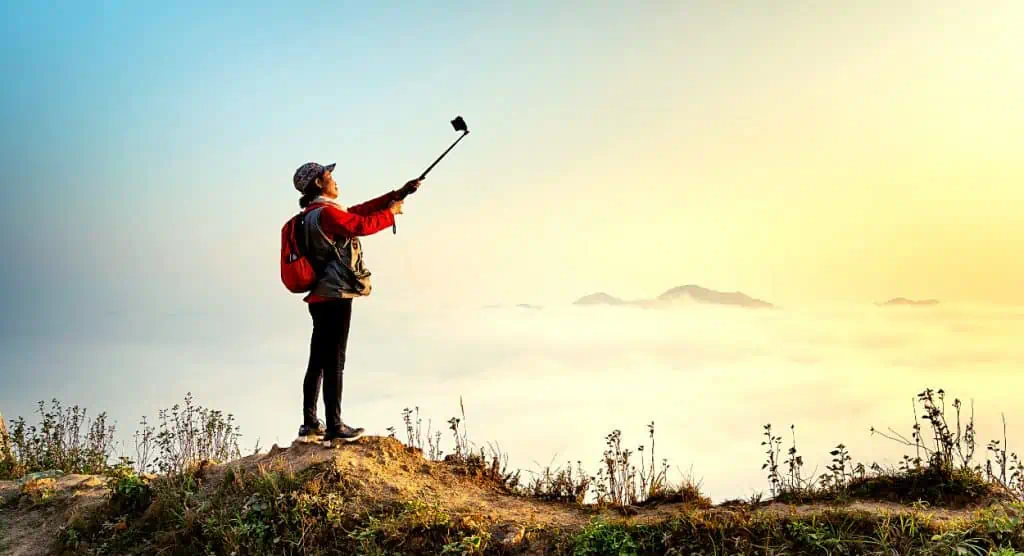 In this manner, they can garner social acceptance. Maybe that's the ultimate goal?
They do it for prestige and approval and probably don't even enjoy the vacation.
Rather, they stress the tension of needing to make everything look right for the selfies so they can give the appearance of enjoying themselves!
This is what desire looks like: craving for something that is ultimately unattainable.
It becomes a trap you cannot spring. It matters little if the bird is tied down with a thread or heavy chains it still cannot fly. This is the nature of attachment.
The Thread Is But A Thought
Traveling cannot in and of itself provide the feeling of social acceptance. Only thoughts can and even those are transient.
It's important to keep this in mind when you do what you enjoy.
Get lost in the moment, be present, and actively participate in whatever it is. Clear away that bizarre attachment, it's your chains.
In this regard, the first attachment to eliminate is the desire to maintain the happiness of others.
It's likely you have an unhealthy attachment to a specific concept or an idea regarding relationships.
That's worth reflecting on.
Specifically, if you're reading this article.
All things considered, you've likely put what you really enjoyed on the back burner, sacrificing it for others.
This needs to end.
It's time to start living for yourself and enjoying yourself.
We are not designed to be used by other people until all of our lifeblood is drained.
At the risk of being extremely repetitive here, please always make time for things that remind you of your values, your goals, who you really are, and what brings you delight.
Beware Of The Patterns
This doesn't mean happiness can't be found through self-sacrifice and love for others.
However, this should be a one-time deal, not a lifetime of sacrifice.
If a "sacrificial pattern" exists, then it's time to sacrifice that pattern to the codependent gods.
Concluding Thoughts
Codependency & Attachment Styles
This brings us to a vital conclusion: you are the company you keep.
If you find yourself in relationships that co-sign this sacrificial pattern, then it's likely to be riddled with codependency.
How can you know if you're struggling with codependency? Learning your attachment style is a great place to start.
What Is An Attachment Style?
It's a mental model, a set of basic assumptions, or core beliefs, about yourself and others.
Right now we'll quickly overview the core beliefs that make up the attachment styles…
The first set of core beliefs, or relationship rules, form the self dimension.
It centers around two critical questions:
Am I worthy of being loved?
Am I competent to get the love I need?
The second set of beliefs form the other dimension.
It also centers around two important questions:
Are others reliable and trustworthy?
Are others accessible and willing to respond to me when I need them to be?
Based on your responses to each set of questions above, your sense of self is either positive or negative. Likewise, your sense of other is also either positive or negative.
By combining the four possible combinations of self and other dimensions, a four-category grid emerges.
These combined beliefs about your self and your other dimensions shape your expectations about future relationships.
They act as a pair of glasses that color the way you see others, and they inform you about how to behave in close relationships.
In other words, they determine your attachment style. Various names have been given to the four primary attachment styles.
Clinton and Sibcy refer to them as secure, avoidant, ambivalent, and disorganized.
Another common way they are configured is as follows: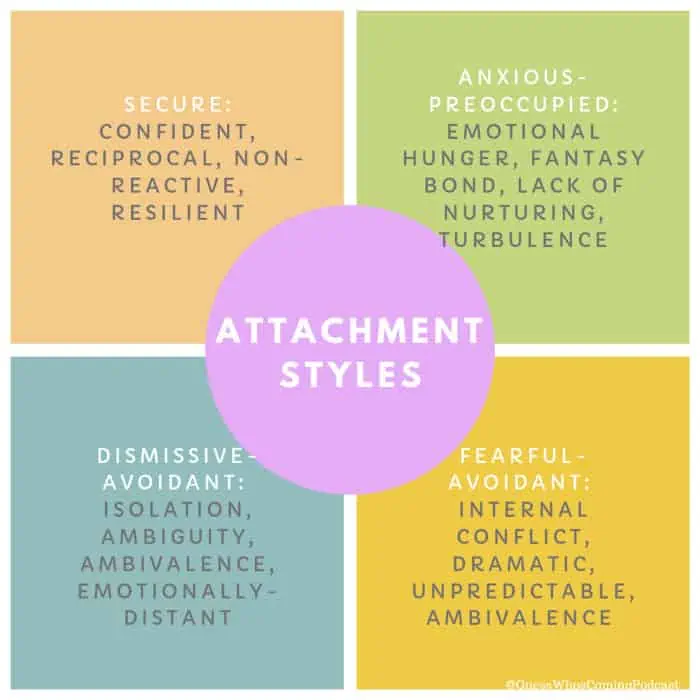 Codependency stems from an interplay of insecure attachment styles.
For example, a codependent person may have an ambivalent attachment style, which is a negative view of self and a positive view of others.
Quite naturally, they end up in relationships with individuals who have an avoidant attachment style.
Recall avoidant has a positive self and negative view of others.
Positive and negative solely in terms of being able to meet specific emotional needs
As can be imagined, the ambivalent clings to the avoidant to help them and in turn maintain their love and attention. Consequently, the avoidant dismisses them and attempts to meet their own needs in isolation, only perpetuating the issue.
Therefore, codependency is circular.
It's the ambivalent chasing the avoidant (or disorganized) and the avoidant running away.
Or, to put it another way, it's the ambivalent solving the never-ending stream of issues created by the avoidant.
Either way, a healthy relationship consists of two individuals with secure attachment styles.
That is they have a generally positive view of themselves and others to meet their needs.
This can also be referred to as interdependence.
Interdependence doesn't require you to abandon your family or bail on every friend you have.
Rather, it suggests that "all boats rise with the tide."
As you change people respond differently to you because truthfully you teach people how to treat you.
Your behavior rightly dictates theirs – it's inevitable.
Living for yourself doesn't mean you'll never sacrifice plans or help someone. It's not like all altruism is thrown from the ship.
Instead, it means you are empowered with the choice to act differently.
Write this down on a flashcard and stick it in your pocket to remind yourself as many times as you need to throughout the day: You can love without sacrificing your agency and identity.