How to Deal with Insomnia in Early Recovery…my story
Dealing with insomnia is a colossal pain in the ass, especially during the early stages of recovery. There is no other way to adequately articulate it.
In reality, sleep disturbances and insomnia are going to be faced by anyone trying to overcome challenges in life.
It's not something exclusive to addicts, but it is something intimate to us when we try to recover. For many of us, it's the first real obstacle we face in sobriety.
That being said, I can't state this clearly enough: quickly and promptly address insomnia as it can directly affect the healing process, both physically and emotionally.
Why? Because a good night's sleep is essential for maintaining a healthy immune system, and it plays a significant role in emotional regulation and mental well-being.
It is my contention that understanding the importance of sleep, being educated in strategies and models for overcoming sleep disorders, and subsequently taking proactive steps to manage insomnia can make a huge difference in the overall recovery process.
I went months and months with minimal sleep, loads of heartache, irritability, cursing at God, praying to God, even watching an ungodly amount of syndicated reruns.
Don't make the same mistake I did with trying to surf it out to no avail for months by yourself – get help!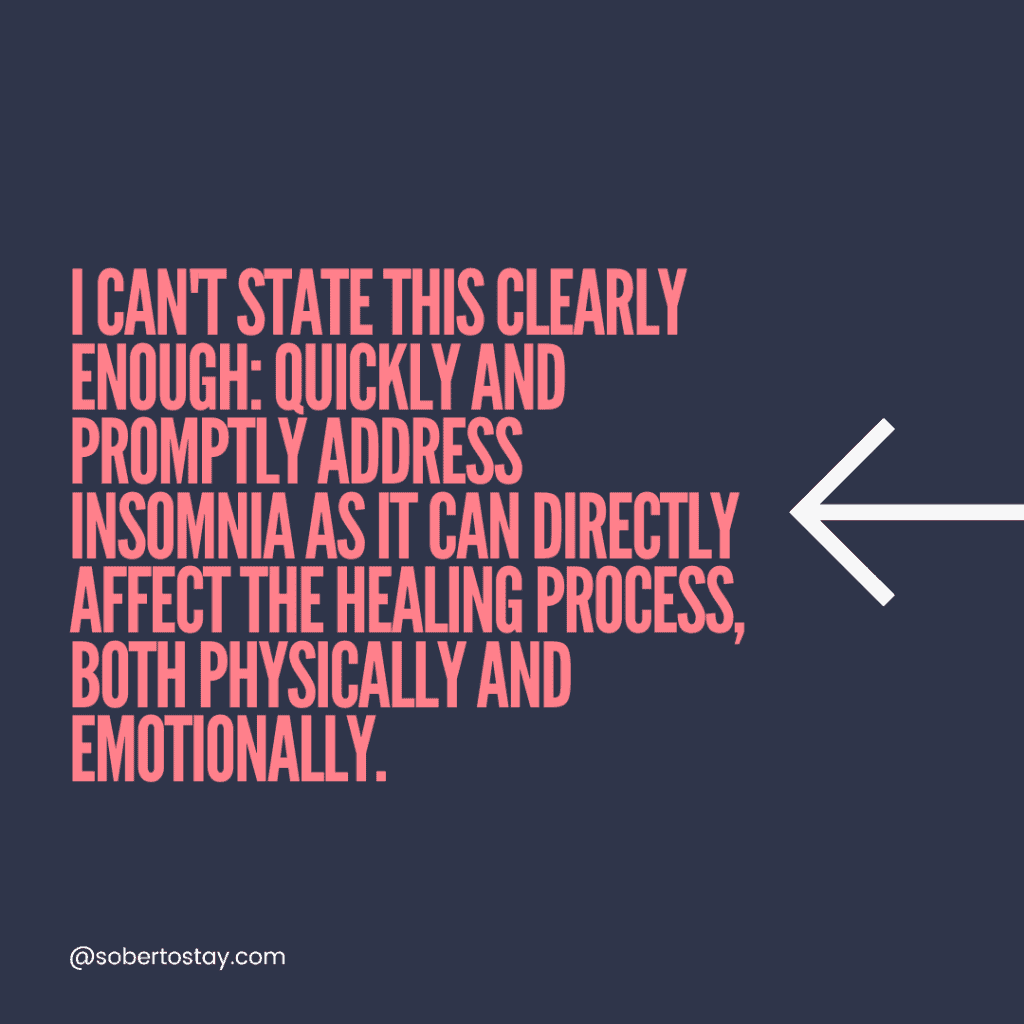 The Calming Hour
The first thing I did – when I finally got help – was to incorporate relaxation techniques into my practice.
I called it "the calming hour."
The calming hour was purely the establishment of a soothing bedtime routine.
It was the same exact routine, mechanically identical, day in and day out.
Just sitting down in my bed and opening up a book is enough at this point to signal my mind and body that it's time to wind down for the night. In fact, the minute my brain hears Frédéric Chopin smash some keys, it's ready to go completely offline in t-minus ten minutes..
At first, however, I used Jim Donovan's "Brain Tapping" technique, is an excellent strategy to conclude the calming hour – watch his tutorial here.
Also, I found EFT Tapping extremely grounding and stabilizing. Admittedly, I use this throughout the day, but it definitely makes an appearance during the calming hour.
I also remained consistent with a sleep schedule. The consistency coupled with a deliberately and delicately crafted sleep environment encouraged a more restful sleep experience and reduced the impact of insomnia during my recovery.
I learned this from CBT-I and leveraged a brilliant app to coach me through the process, but we will get to these gems shortly!
Understanding Insomnia in Early Recovery
Insomnia is a common withdrawal symptom. It is naturally linked to early recovery, as the body and mind adjust to the absence of the substance.
Any way you approach detoxification, it's going to be challenging to fall asleep, stay asleep, or get restorative sleep, which can significantly impact overall health and well-being.
Insomnia can be a result of various factors, including changes in brain chemistry, stress from detoxification, and emotional challenges related to the addiction recovery process.
As I already noted, dealing with insomnia early needs to be decisive, as proper sleep is essential for the body to heal itself, regenerate physically and mentally, and maintain focus on recovery efforts.
In my case, I'm beating a dead horse here, I found that creating a sleep-friendly environment played a significant role in managing insomnia during early recovery. This meant establishing a regular sleep schedule, minimizing noise and light, and ensuring a comfortable sleeping space. I still hold stringently to this tenet of sleep hygiene a decade later, if it ain't broke don't fix it!
I also learned about the importance of avoiding caffeine, nicotine, and other stimulants that could disrupt sleep.
Apart from external factors, I discovered that engaging in relaxation techniques and cognitive-behavioral therapy could help address the root causes of my insomnia.
These methods helped me learn how to manage my stress and anxiety levels, which in turn played a key role in improving my overall sleep quality
---
---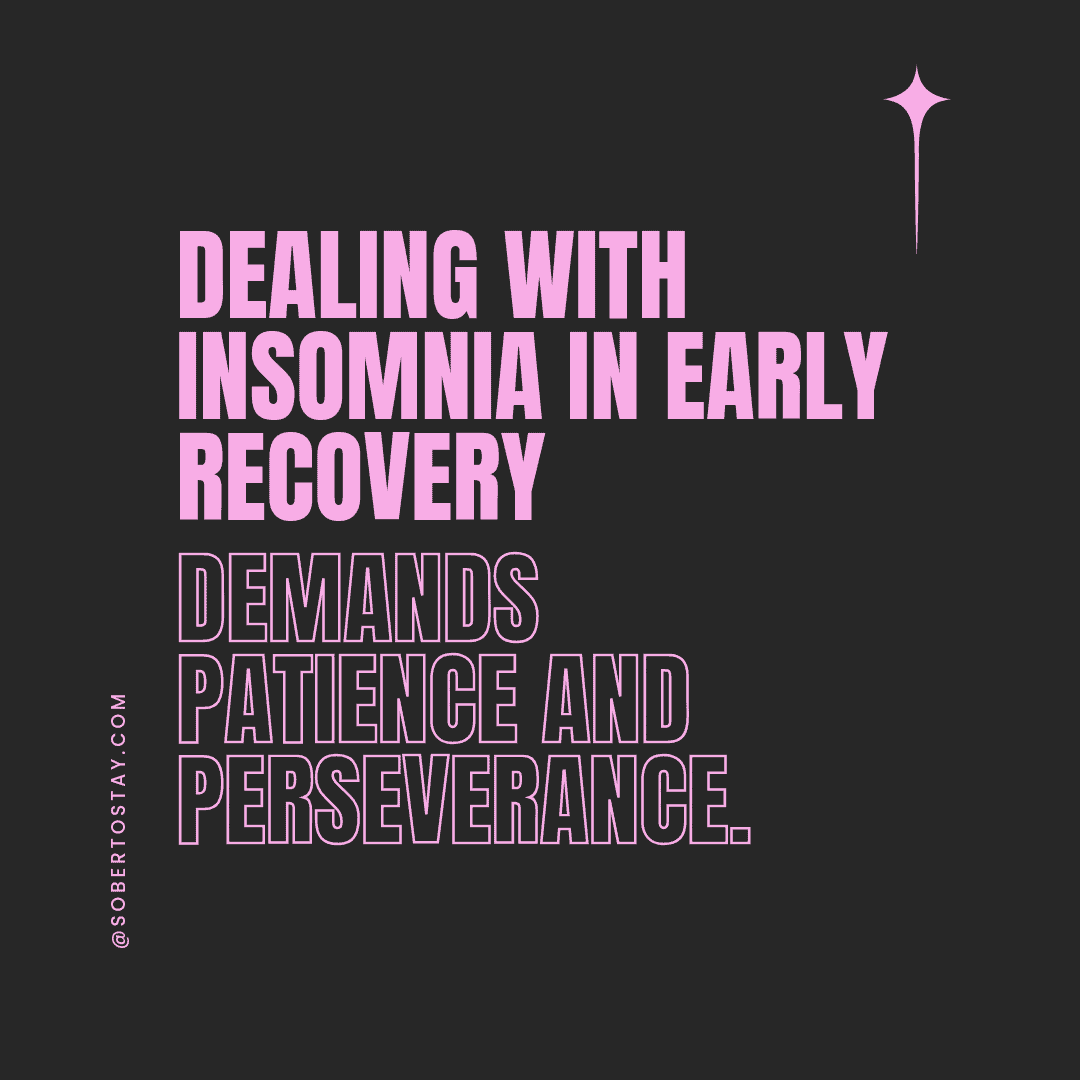 It is also imperative to consult with a healthcare professional who can guide you through the appropriate steps to manage sleep disturbances and ensure that your recovery stays on track.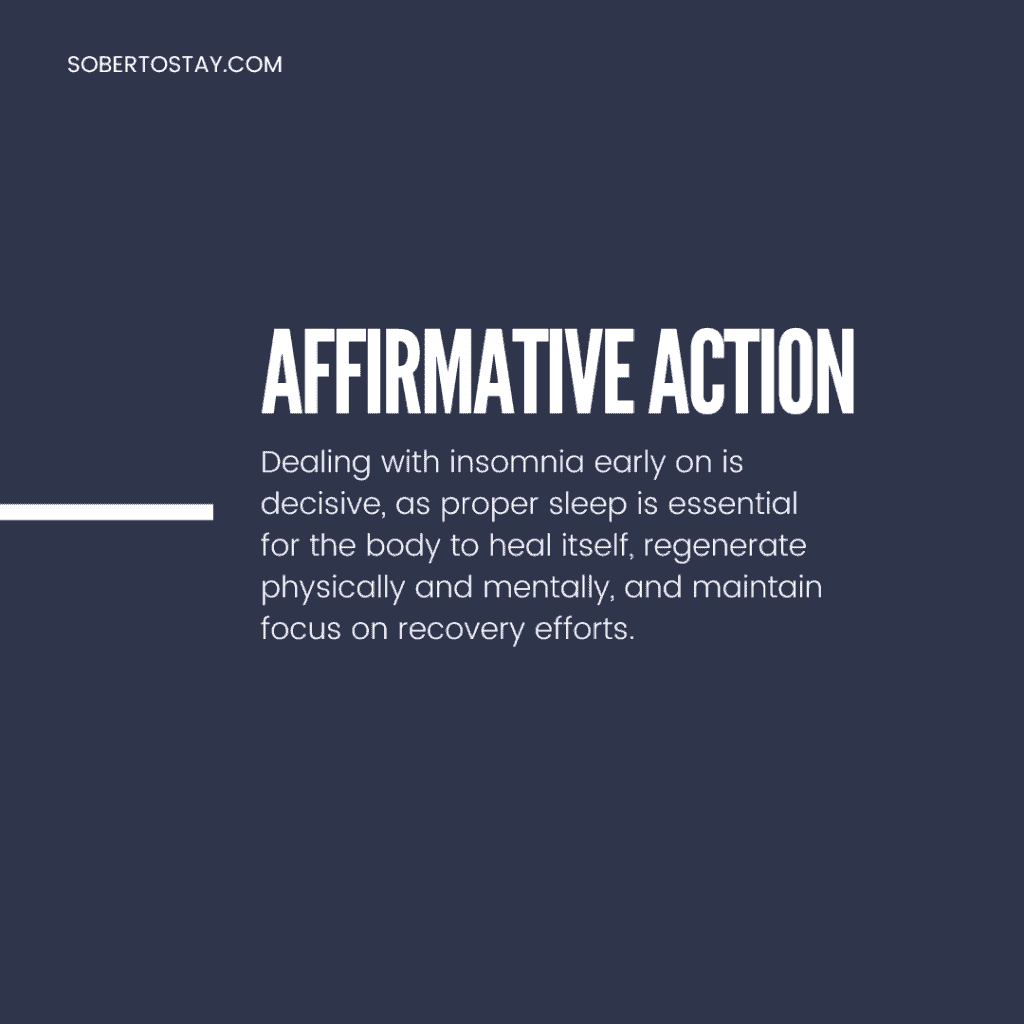 They may recommend various treatment options that can help address insomnia during this critical stage of recovery, such as medication, therapy, or lifestyle changes.
Remember, sleep is a vital component of a successful recovery journey, so ensuring you adequately manage insomnia is of utmost importance.
Identifying Causes of Insomnia in Early Recovery
Several factors may contribute to sleep disturbance. In this section, I will discuss four primary causes of insomnia in early recovery: addiction withdrawal, anxiety and stress, depression, and underlying medical conditions.
Addiction Withdrawal
One of the most common causes of insomnia in early recovery is addiction withdrawal.
As the body starts adjusting to the absence of substances, it may experience various symptoms, including disrupted sleep patterns.
Withdrawal from alcohol, opioids, or other drugs can lead to sleep disturbances during the initial phase of recovery.
Anxiety and Stress
During early recovery, individuals often face heightened anxiety and stress levels as they navigate through the challenges of rebuilding their lives without relying on substances.
Worries about relapse, rebuilding relationships, and managing daily tasks can contribute to insomnia.
Depression
Another factor contributing to insomnia in early recovery is depression.
Individuals with a history of substance use may have experienced depressive symptoms in the past or may develop them during the recovery process.
Sleep disturbances, including insomnia, are common in those suffering from depression. Addressing depression through appropriate interventions can help resolve sleep issues during this period of recovery.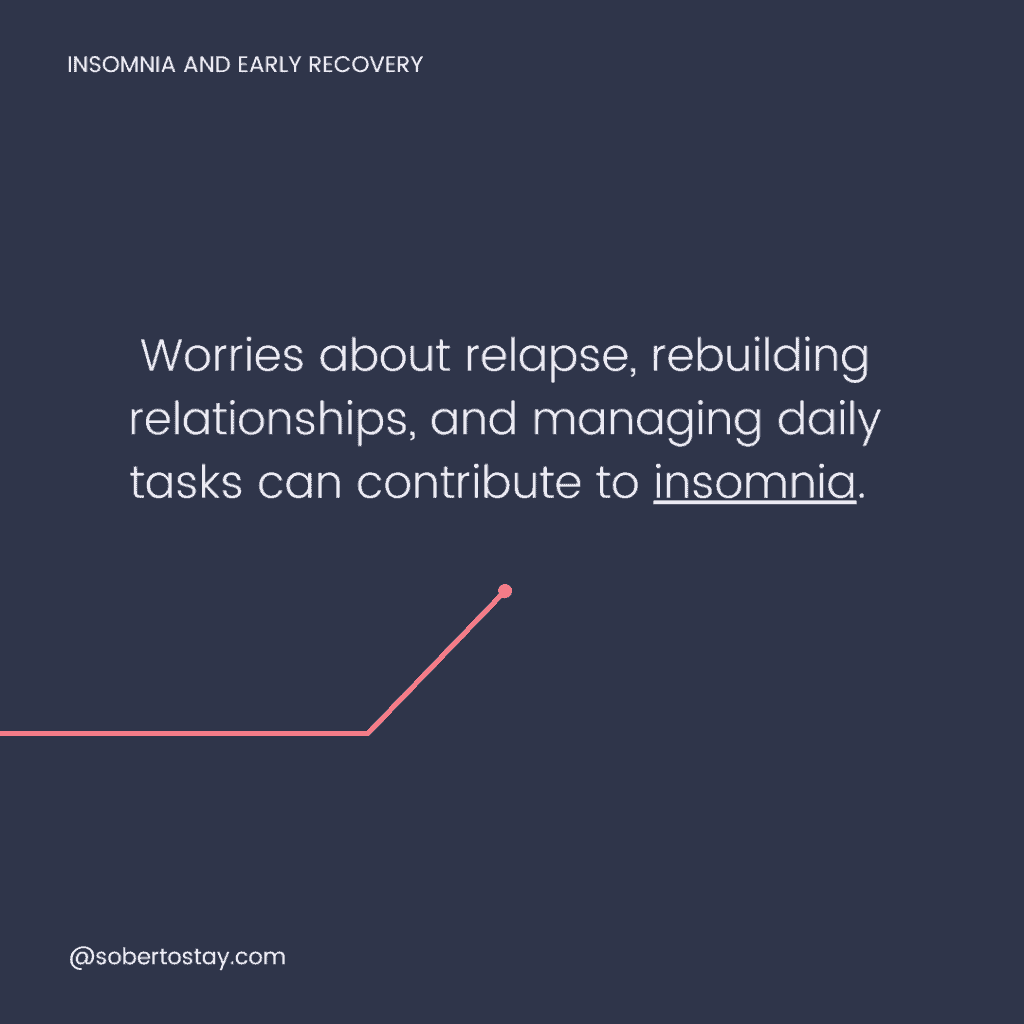 Medical Conditions
Lastly, it is important to consider underlying medical conditions that may be contributing to sleep disturbances in early recovery. For instance, sleep apnea, restless leg syndrome, or chronic pain can impact a person's ability to fall or stay asleep.
If insomnia persists despite weeks of sobriety, it could be beneficial to consult a healthcare professional to identify and treat any underlying medical conditions that may be affecting sleep.
Understanding the various factors contributing to insomnia in early recovery is important for developing effective strategies to overcome it. Addressing withdrawal symptoms, anxiety and stress, depression, and any underlying medical conditions can all play a role in promoting a better night's sleep during this challenging transition.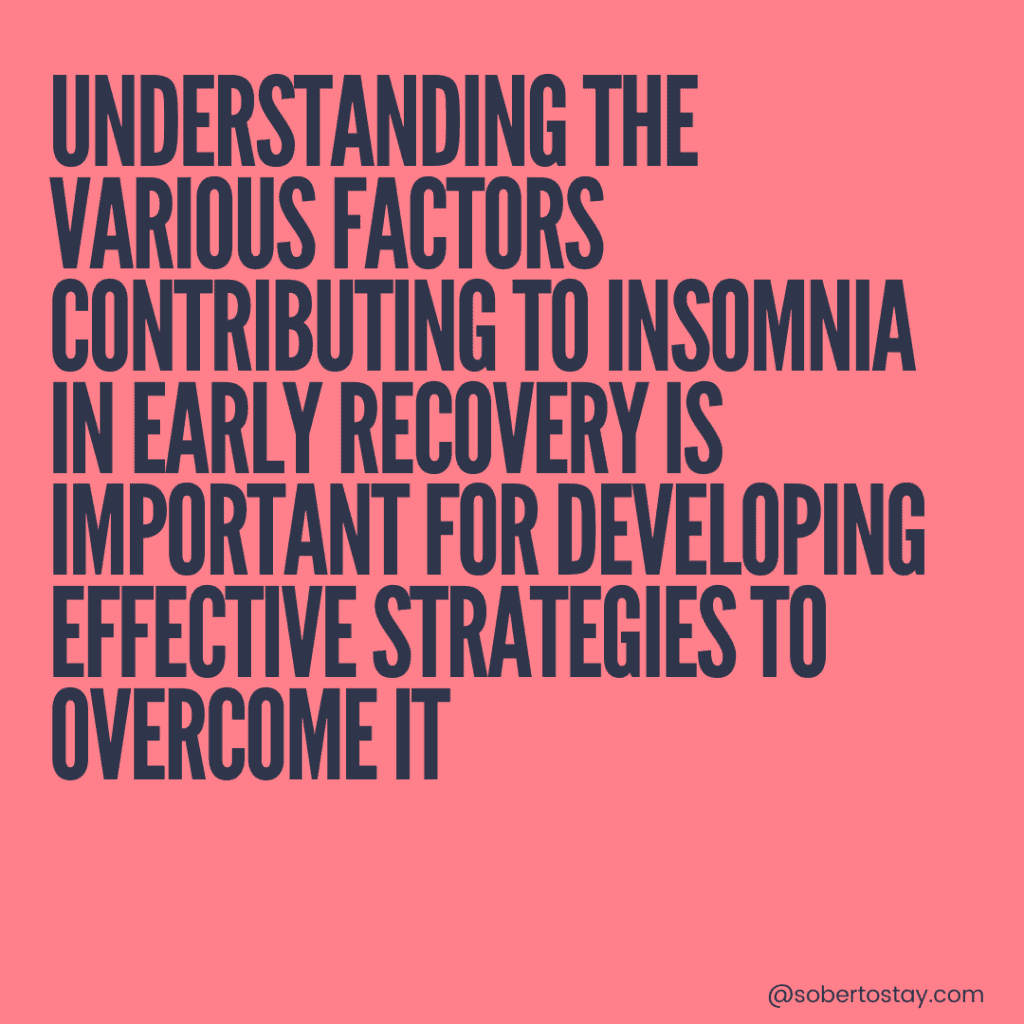 Recognizing Symptoms of Insomnia
It's critical to recognize the symptoms of insomnia so that appropriate measures can be taken to ensure better and healthier sleep. Insomnia can manifest as either acute or chronic, and both can have a significant impact on your overall well-being during recovery.
Acute insomnia usually lasts for a short period, ranging from a few nights to a few weeks. This type of insomnia could be due to stress, changes in your environment, or emotional distress. Some common symptoms experienced during acute insomnia episodes include difficulty falling asleep, frequent waking up during the night, and awakening feeling tired.
On the other hand, chronic insomnia, which lasts for a month or more, can have more severe consequences on my mental and physical health.
Chronic insomnia almost always involves a combination of primary sleep problems and lifestyle factors that worsen existing symptoms.
Persistent difficulty falling asleep, regularly waking up throughout the night, and experiencing non-refreshing sleep even after a full night are signs that you might be suffering from chronic insomnia.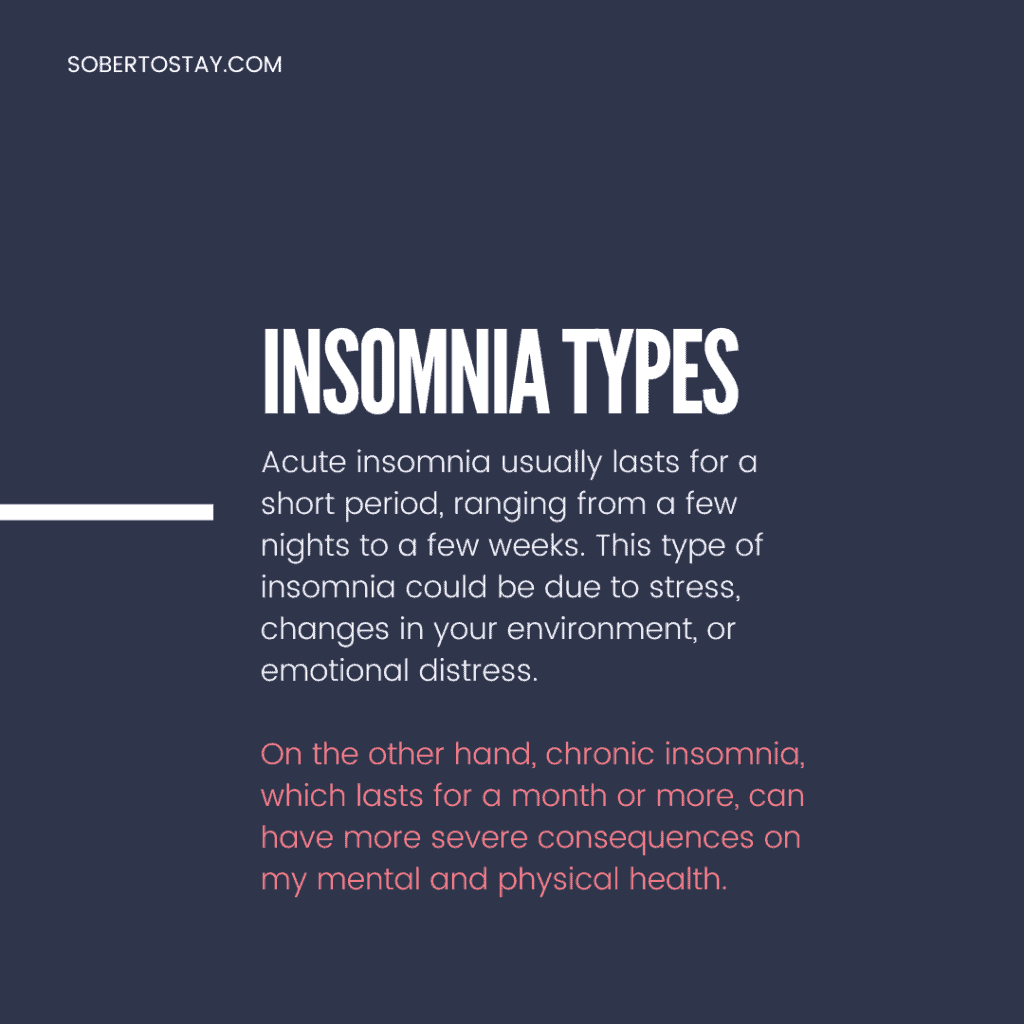 In addition to the primary symptoms, there are secondary effects of insomnia that can impact your day-to-day life during early recovery.
For instance, you might experience irritability, constant fatigue, and difficulty concentrating throughout the day due to the lack of proper sleep.
Sleep deprivation poses a serious threat to your well-being, which can exacerbate existing issues and undermine the progress made during recovery.
You need to be aware of these symptoms and monitor your sleep patterns. By recognizing insomnia and its effects on your health, you can address this issue and adopt healthy sleep habits, paving the way for a smoother and more successful recovery journey.
Diagnosis and Importance of Medical Consultation
When dealing with insomnia, you need a proper diagnosis and medical consultation.
As someone who has experienced insomnia, it's essential to consult a doctor as early as possible to determine the cause of the sleep issue.
A sleep study might be recommended to identify any underlying sleep disorders that could be contributing to the problem.
There are several prescription medications available to help with insomnia, such as eszopiclone, ramelteon, zaleplon, and zolpidem.
Discuss these options with a healthcare professional.
Each medication has its own set of side effects and might not be suitable for everyone, especially during early recovery when the body is still adjusting to the absence of substances.
Aside from medications, there are alternative treatments for insomnia that might be considered.
For example, my doctor recommended stimulus control therapy, which involves associating the bed and bedroom only with sleep and intimacy. This helped me break some of the negative associations that might have been keeping me awake at night, as I mentioned above.
Cognitive behavioral therapy for insomnia (CBT-I) is another option that I found momentous during my early recovery.
It's a structured program that addresses the thoughts and behaviors that may be contributing to insomnia. The goal is to replace those thoughts and behaviors with healthy ones, ultimately improving sleep quality and reducing the need for sleep aids.
Apps, such as Stellar Sleep, are available to enable you to utilize this therapeutic model with precision and confidence. I can't recommend them enough!
Managing Sleep Hygiene
As my body adjusted to a world without booze and drugs, I was motivated to make some notable improvements to manage my horrendous sleep. Here, I will share the sleep hygiene strategies that proved the most profitable to me. I'm repeating myself a bit here, but it's worth noting.
First and foremost, I learned the importance of creating a comfortable and sleep-promoting environment.
I made sure to maintain a quiet, cool, and dimly lit bedroom, removed electronic devices, and invested in a proper pillow and mattress that provided the needed support and comfort for a restful night.
A consistent sleep schedule was also crucial in my journey.
I committed to waking up and going to bed at the same time every day – even on weekends.
This consistency helped regulate my body's internal clock and improved my overall sleeping patterns.
When it comes to winding down, I found it very helpful to engage in mindfulness activities such as deep breathing, progressive muscle relaxation, or gentle stretches in the hour preceding bedtime.
I also avoided mentally stimulating activities or exposure to bright screens as they can interfere with the relaxation process and the production of sleep hormones.
A healthy diet also played a massive role in managing my sleep hygiene. I realized that eating a balanced diet throughout the day and avoiding heavy meals before bedtime helped prevent sleep disturbances. Additionally, I acknowledged the need to limit stimulants such as caffeine and nicotine, particularly near bedtime, as they devastated my sleep quality.
Finally, I made specific lifestyle changes that undoubtedly impacted my sleep hygiene.
Regular physical activity, though not too close to bedtime, really turned the tide for me.
I was very deliberate about a clear-cut bedtime routine. Specific actions signaled my body that it was time to wind down and sleep, such as brushing my teeth, taking a warm shower, or reading a book.
By incorporating these strategies in early recovery, though not early enough if you ask me, I was able to create a foundation for better sleep, and ultimately, a healthier lifestyle.
I hope these tips prove helpful, as they did for me in overcoming insomnia during this crucial period.
Relaxation and Mind-Body Techniques
I found that relaxation and mind-body techniques can be highly effective in managing sleep issues. In this section, I will discuss several techniques, including meditation, progressive muscle relaxation, yoga, and breathing exercises (though EFT and brain tapping as noted above are unequivocally my favorites).
Meditation
Meditation has been proven to help reduce stress and anxiety, which can directly contribute to insomnia. I've found that setting aside just a few minutes each day to practice mindfulness meditation can significantly improve sleep quality.
Utilizing binaural brainwave entrainment or "binaural beats" can amplify this process. iAwake Technologies is an excellent resource in this regard.
There are many types of meditation, but I recommend starting with a simple guided meditation for beginners. Refuge Recovery is an excellent source!
As you become comfortable with this practice, you can explore other forms, such as loving-kindness or body scan meditations, which may also be beneficial for sleep.
Progressive Muscle Relaxation
Another technique I've used to improve sleep during early recovery is progressive muscle relaxation (PMR). PMR involves systematically tensing and relaxing various muscle groups throughout the body, promoting a sense of calm and relaxation.
To practice PMR, start by tensing the muscles in your feet, then gradually work your way up your body. Be sure to focus on one muscle group at a time, holding the tension for a few seconds before releasing it (click here for a video lesson).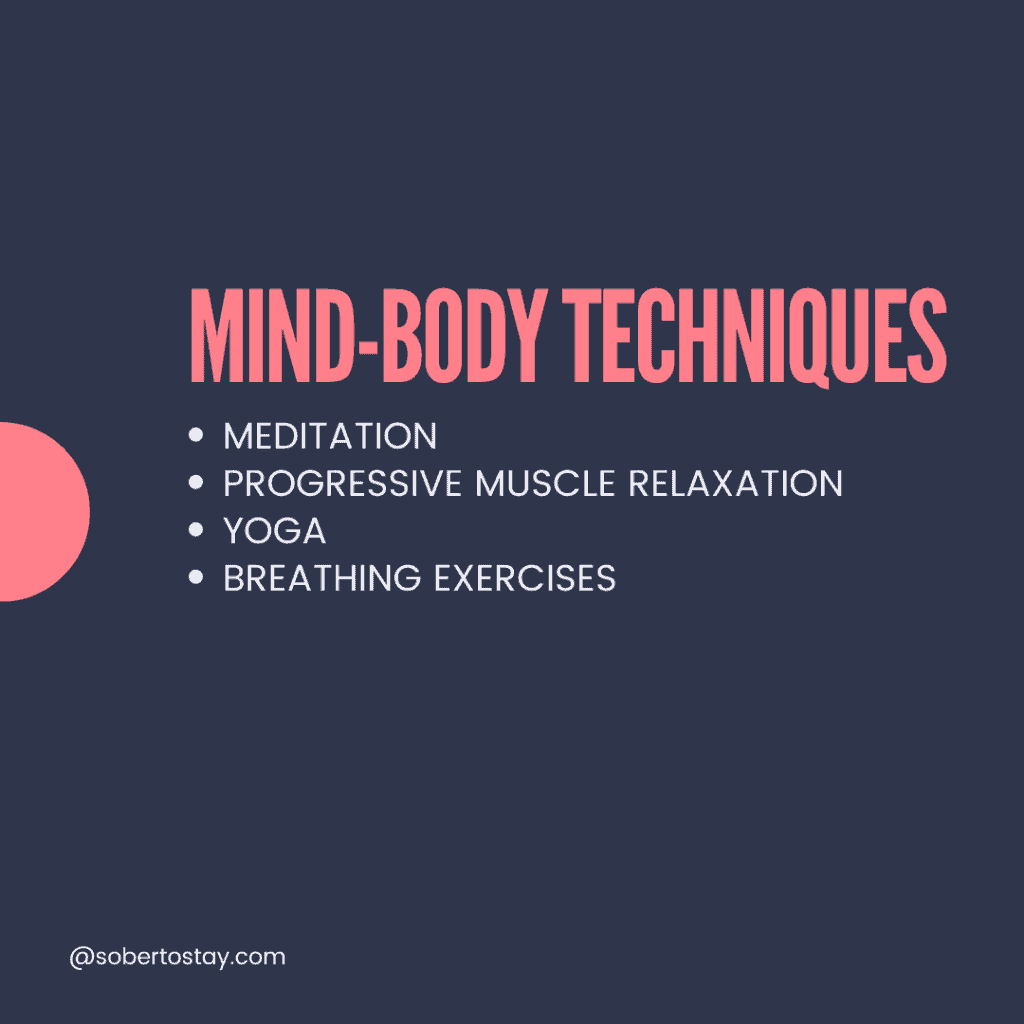 Yoga
Yoga can be a great addition to your relaxation and mind-body practices, as it combines physical movement with mindfulness.
I've found that incorporating a gentle yoga routine before bedtime helps me unwind and relax my mind, making it easier to fall asleep (this routine specifically).
The practice of certain yoga poses, like forward bends or reclined twists, can help release tension in the body, while other poses, such as a child's pose or legs-up-the-wall pose, promote relaxation.
Breathing Exercises
Finally, I've found that practicing breathing exercises can be extremely helpful in managing insomnia during early recovery. One effective technique is the 4-7-8 breathing technique, where you inhale for 4 seconds, hold your breath for 7 seconds, and exhale for 8 seconds.
This pattern helps to slow down your breathing, calming both your mind and body. Practicing these exercises before bedtime or during periods of restlessness can aid in falling asleep and staying asleep (Box Breathing is another very effective technique).
Overall, implementing relaxation and mind-body techniques into your daily routine can be an effective way to deal with insomnia during early recovery.
I encourage you to explore these techniques and find what works best for you. Remember to be patient and give yourself time to adjust to these practices – you may be pleasantly surprised at the improvements in your sleep quality.
Lifestyle Modifications
Early on I realized that making certain lifestyle modifications played a crucial role in not only my sobriety but improving my sleep quality.
One of the first things I focused on was incorporating regular exercise into my daily routine. Not only did it help me physically, but it also improved my overall mental well-being.
Adjusting my diet was another essential change that made a significant impact on my sleep patterns. I prioritized consuming more fruits, vegetables, whole grains, and lean proteins.
Furthermore, I made an effort to avoid sugar, caffeine, and processed foods, especially close to bedtime.
Incorporating relaxation techniques into my schedule helped me tremendously in dealing with my insomnia. One such method was reading a book before bed.
I found that focusing on interesting material allowed my mind to unwind and reduced my anxiety levels, ultimately helping me fall asleep faster (unless I read Lord of the Rings, then I stayed up all night!).
Having a pet proved to be beneficial for my sleep as well. Emma, my pug, was my bedtime anchor, she kept me stable during my tumultuous tossing and turning sleeping days.
Spending time with Emma lowered my stress levels and provided emotional support during my recovery process (I have 3 dogs now!).
The sense of responsibility that came with caring for her helped me establish a consistent daily routine, which in turn positively influenced my sleep habits.
---
Incorporating exercise, optimizing my diet, engaging in relaxation techniques like reading, and the companionship of a pet were crucial factors in addressing my insomnia during early recovery. Making these lifestyle modifications allowed me to improve my overall sleep quality and support my journey towards better health and well-being.
---
Medication and Sleep Aids
When dealing with insomnia during early recovery, it's important to consider medication and sleep aids in a cautious and informed manner.
As someone who has experienced these challenges, I can share some insights on what options may be available and how they can benefit your sleep quality during this crucial period.
Over-the-counter sleep aids, such as antihistamines and melatonin, are two options that can be considered for temporary relief.
Antihistamines can help with insomnia by blocking the effects of histamine, a neurotransmitter that promotes wakefulness. However, I must warn you that they can have side effects like drowsiness, dry mouth, and dizziness.
On the other hand, melatonin is a hormone that can be taken as a supplement to promote sleep. It's particularly useful for sleep-onset insomnia, but it's crucial to note that excessive use may cause dependency or disrupt the body's natural sleep-wake cycle 1.
Prescription medications like Ambien can be effective for sleep issues, especially for those who have difficulty falling asleep.
However, these medications need to be used cautiously and under the supervision of a healthcare professional since they may cause side effects such as dizziness, drowsiness, or an increased risk of falls 2.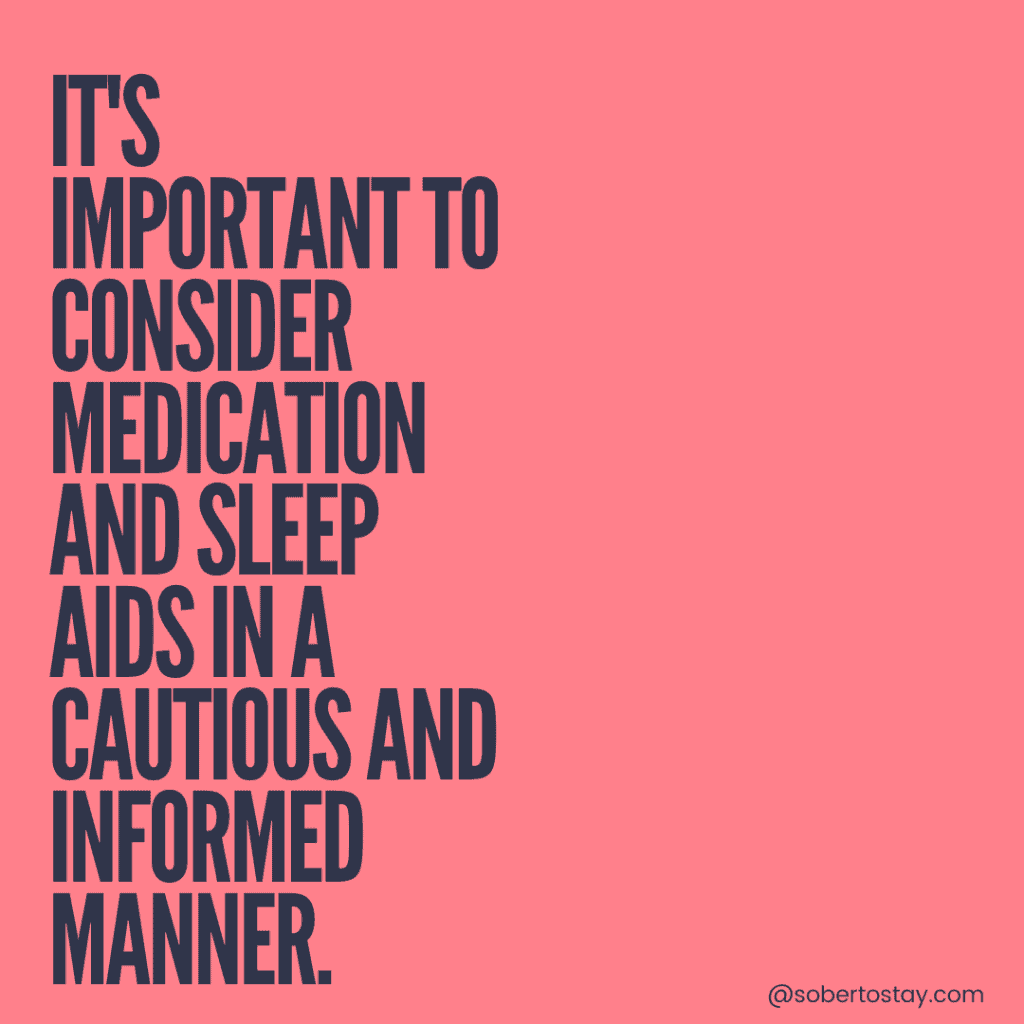 I recommend discussing your concerns with a medical professional who can help you determine the most appropriate course of action.
They may suggest alternative methods like cognitive-behavioral therapy for insomnia or relaxation techniques, which can be effective in addressing sleep problems without the need for medication (as noted above).
In my experience, it's essential to balance the benefits of these medications and sleep aids against their potential side effects and risks.
Remember that early recovery is a critical time for healing, and getting a good night's sleep is crucial to your overall well-being. Be sure to seek guidance from a healthcare professional to help you manage insomnia during this period, and always use medication and sleep aids responsibly.
Treatment and Recovery Process
The recovery process started for me with a focus on relapse prevention, as insomnia is often linked to an increased risk of relapse in recovering individuals. To address this, I engaged in a combination of behavioral treatment and cognitive-behavioral therapy (click the link above).
Behavioral treatments have proven effective in managing insomnia, with cognitive-behavioral therapy for insomnia (CBT-I) being considered one of the most efficacious approaches. During CBT-I, I learned to identify and modify the thought patterns and behaviors contributing to my sleep difficulties, helping me develop a healthier relationship with sleep.
In addition to CBT-I, I also practiced stimulus control, which involves re-associating the bed and bedroom with sleep rather than wakefulness. Not unlike Exposure and Response Prevention for anxiety. Some of the key guidelines I followed included:
Going to bed only when I was sleepy
Getting out of bed if I couldn't fall asleep within 20-30 minutes
Using the bed only for sleep and intimacy, avoiding activities such as watching TV, working, or eating
These practices helped establish a consistent sleep-wake schedule, allowing my body to have a routine and improve overall sleep quality.
Moreover, as I already stated, I found relaxation techniques, such as deep breathing exercises, progressive muscle relaxation, and guided imagery, to be useful in alleviating anxiety and reducing the amount of time it took me to fall asleep (see above).
In conclusion, the treatment and recovery process for insomnia during early recovery requires a multi-faceted approach, with a focus on relapse prevention, behavioral treatment, and cognitive-behavioral therapy. By addressing both the physical and psychological aspects of insomnia, I was able to create a more sustainable sleep routine and support my overall recovery journey.
Understanding the Risk of Relapse
It is important to understand the potential risks associated with this sleep disturbance, particularly the increased risk of relapse it can pose.
During the early stages of recovery, stress levels are typically high as individuals are making significant adjustments to their daily routines and coping mechanisms. Insomnia can exacerbate stress, making it even more difficult to cope with the challenges of sobriety.
As I learned more about the connection between insomnia and addiction recovery, I found that sleep disturbances can be robust predictors of relapse during these crucial early stages.
Additionally, the lack of quality sleep can hinder the brain's ability to properly process and manage emotions. In turn, this may lead to heightened feelings of anxiety, depression, and irritability, which can further increase the risk of relapse by making it more difficult to resist cravings and triggers tied to addiction.
Addressing insomnia during the recovery process is not only important for improving sleep quality but also for reducing the likelihood of returning to substance use.
---
One effective strategy that had the most impact on my sleep hygiene, was the use of cognitive-behavioral therapy for insomnia (CBT-I), which can aid in improving sleep patterns and overall well-being. I can't repeat this enough!
---
In conclusion, being aware of the connection between insomnia and the risk of relapse can be vital in the journey toward a successful recovery from addiction.
By understanding this relationship and taking appropriate steps to address sleep disturbances, individuals in early recovery may be better equipped to cope with stress, manage emotions, and maintain sobriety.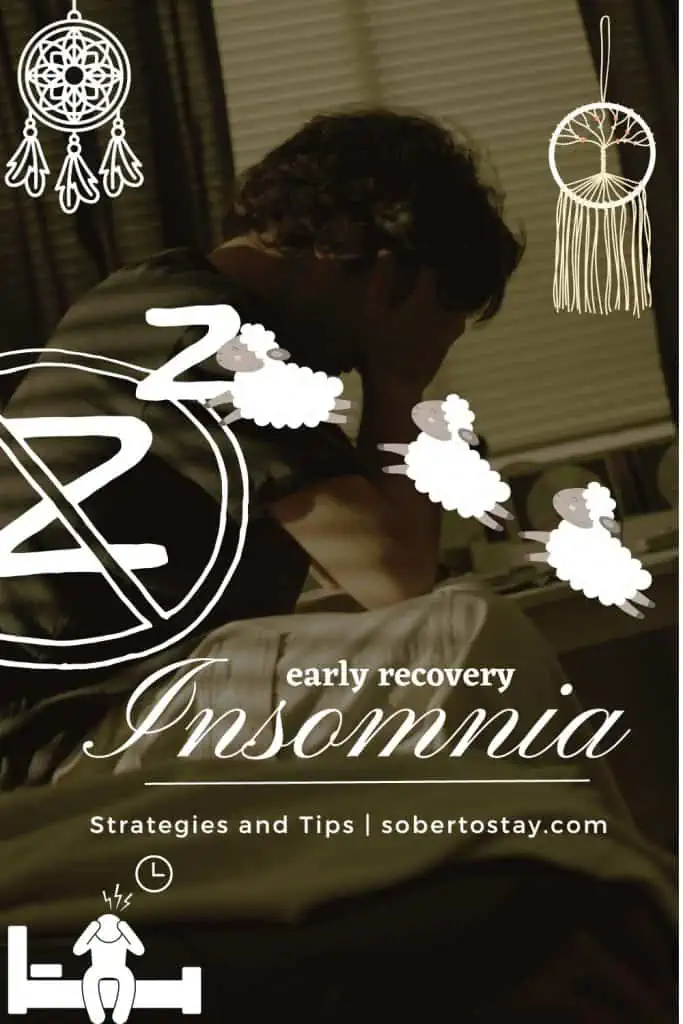 Let's Sum It Up
Dealing with insomnia during early recovery from alcohol dependence or any substance can be extremely challenging and irritating, but it can't be ignored if it persists.
Incorporating cognitive-behavioral treatments, such as those mentioned above and in this study, can be effective in improving the quality of sleep and overall well-being.
Seeking professional help, such as online treatments for insomnia, like Stellar Sleep, can be the pivotal turning point in your recovery.
They can provide guidance and support on how to implement various techniques and methods to address sleeplessness in recovery.
Establishing a healthy sleep routine by setting a consistent sleep and wake time, creating a relaxing pre-bedtime routine, and limiting the use of electronic devices before bedtime is an excellent launching pad. In addition to these strategies, it is crucial to maintain a healthful lifestyle that incorporates exercise, balanced meals, and stress-management practices such as meditation.
Lastly, be patient and persistent with these approaches. The path to recovering from alcohol dependence and effectively dealing with insomnia can be a challenging journey, but with determination and the right tools and support, it is possible to significantly improve sleep quality and overall well-being in early recovery.