Is There a Difference Between Sober House and Halfway House? Sober Homes Versus Halfway Homes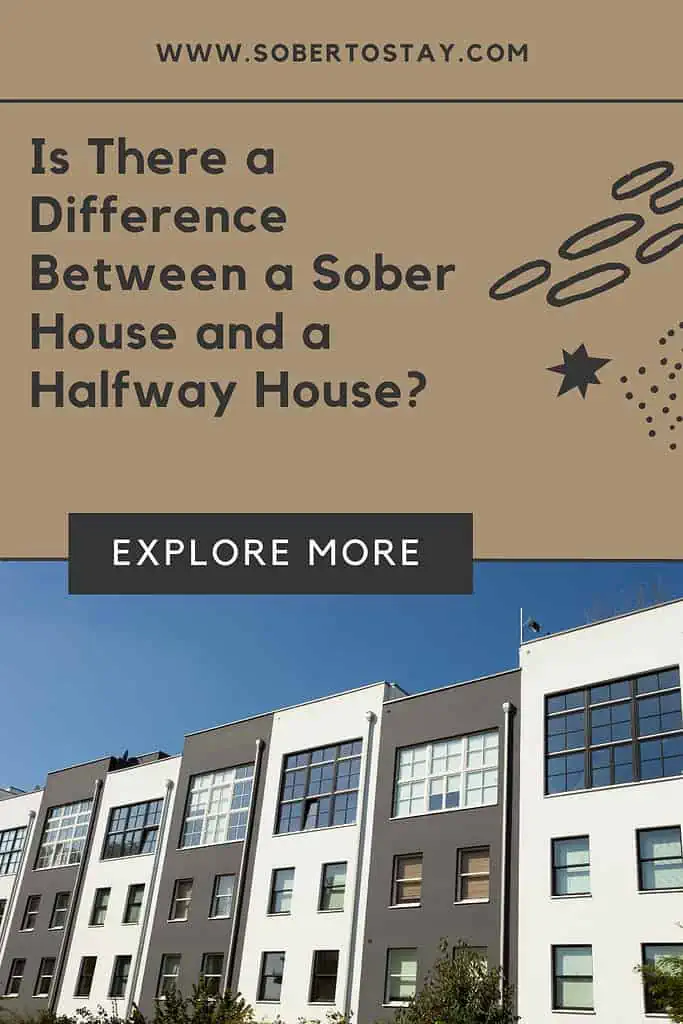 Halfway houses and various sober living alternatives provide an invaluable if not necessary transitional housing option for people in recovery.
As a drug and alcohol counselor for many years, one of the most misunderstood concepts is levels of care. To understand the precise difference between sober living and a halfway house this concept needs to be apprehended.
The American Society of Addiction Medicine (ASAM) developed comprehensive criteria and organized a catalog of the levels of care.
---
Levels of Care (LOC)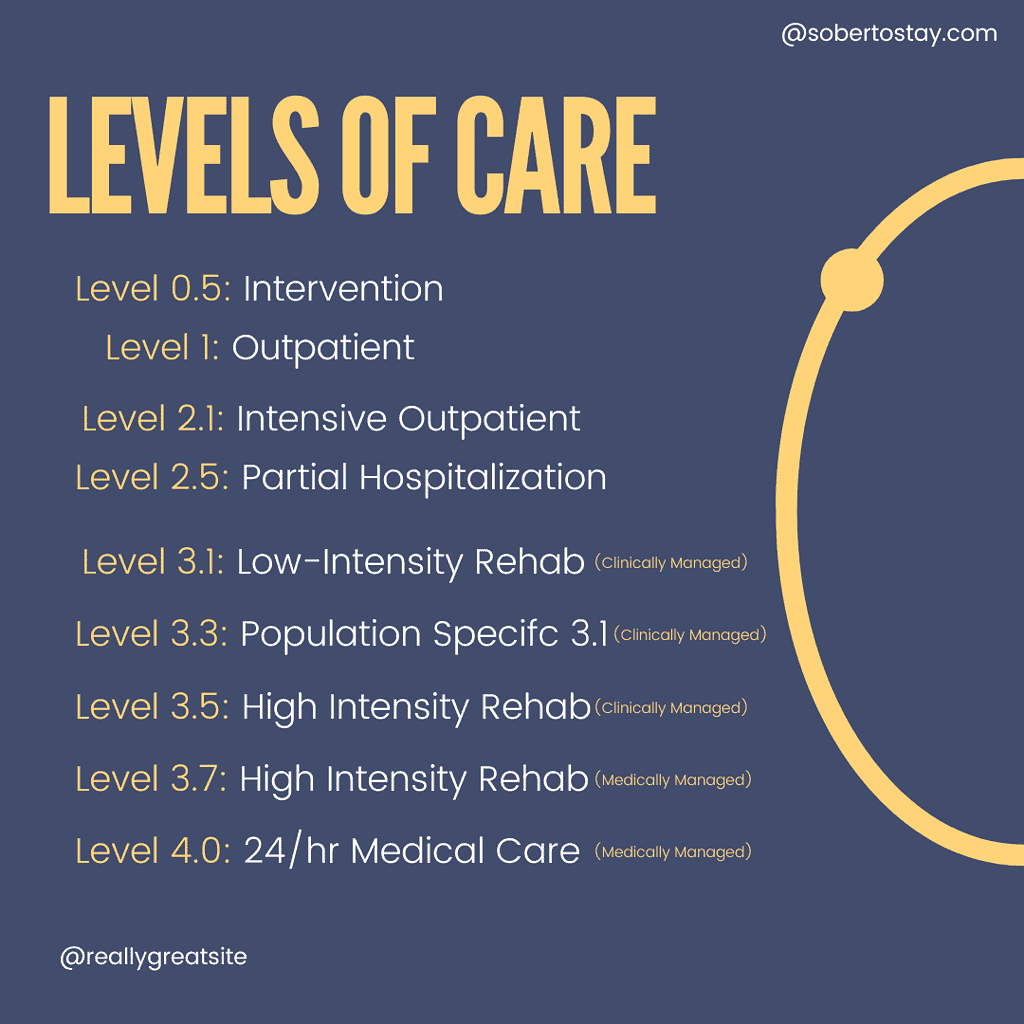 Level 0.5, which is called Early Intervention. Early intervention can consist of assessment and education for people at risk of developing a substance use disorder, or programs like DUI classes for people arrested for driving under the influence. The goal of .5 services is to intervene before a person develops a substance use disorder.
Level 1 outpatient treatment consists of treatment for substance use that is less than 9 hours a week. Level 1 is appropriate for people with less severe disorders, or as a step-down from more intensive services.
Level 2.1 is intensive outpatient services consisting of at least 9 and no more than 20 hours per week of treatment. These programs typically offer medical care 24 hours a day by phone or within 72 hours in person.
Level 2.5 is partial hospitalization, which is at least 20 hours a week but is less than 24-hour care. This level of care provides structure, and daily oversight for people who need daily monitoring, but not 24/7 care.
Level 3.1 is clinically managed low-intensity residential treatment. Residential services at this level consist of a setting, such as a group home, where people live. However, treatment is only required to be 5 hours per week, which helps people with such topics as relapse management.
Level 3.3 is clinically managed high-intensity and population-specific services. These programs are targeted for providing treatment designed to move at a slower pace, for people with cognitive functioning issues, including people with traumatic brain injuries, the elderly, or people with developmental disabilities.
Level 3.5 is clinically managed residential services. These services are designed for people with serious psychological or social issues who need 24-hour oversight and are at risk of imminent harm.
Level 3.7 is medically managed high-intensity inpatient treatment These services are for people who need intensive medical or psychological monitoring in a 24-hour setting but do not need daily physician interaction.
Level 4 provides 24-hour nursing care and daily physician visits. People in this level of care need daily physician monitoring, along with 24-hour oversight.
*taken from The ASAM Criteria
---
The majority of people seem to think a halfway house is the same thing as a sober house.
A halfway house, however, is a level of care, whereas a sober house is not.
Then even more confusion abounds. Is a sober house the same as a recovery house? What about a ¾ house or a transitional living home?
In this article, I'm going to break these things down to better enable you to understand how these transitional housing options work and what's appropriate for you or your loved one.
Sober and Halfway Houses: Key Similarities
Sober living homes and halfway houses have a lot in common, so the confusion that surrounds them isn't unwarranted.
Primarily, they both provide housing and support for people in early sobriety who no longer need intensive inpatient care.
For individuals who have just completed inpatient treatment or were recently released from prison these types of transitional living options deliver accountability and structure on a gold platter.
They also decrease environmental and emotional relapse triggers, and teach healthy coping skills through peer support and increased social interest.
The majority also require 12-step meeting attendance, some variety of outpatient or partial hospitalization, or recovery coaching or recovery specialist services.
Additionally, they usually come stacked with community resources to assist in finding employment, education, and therapy.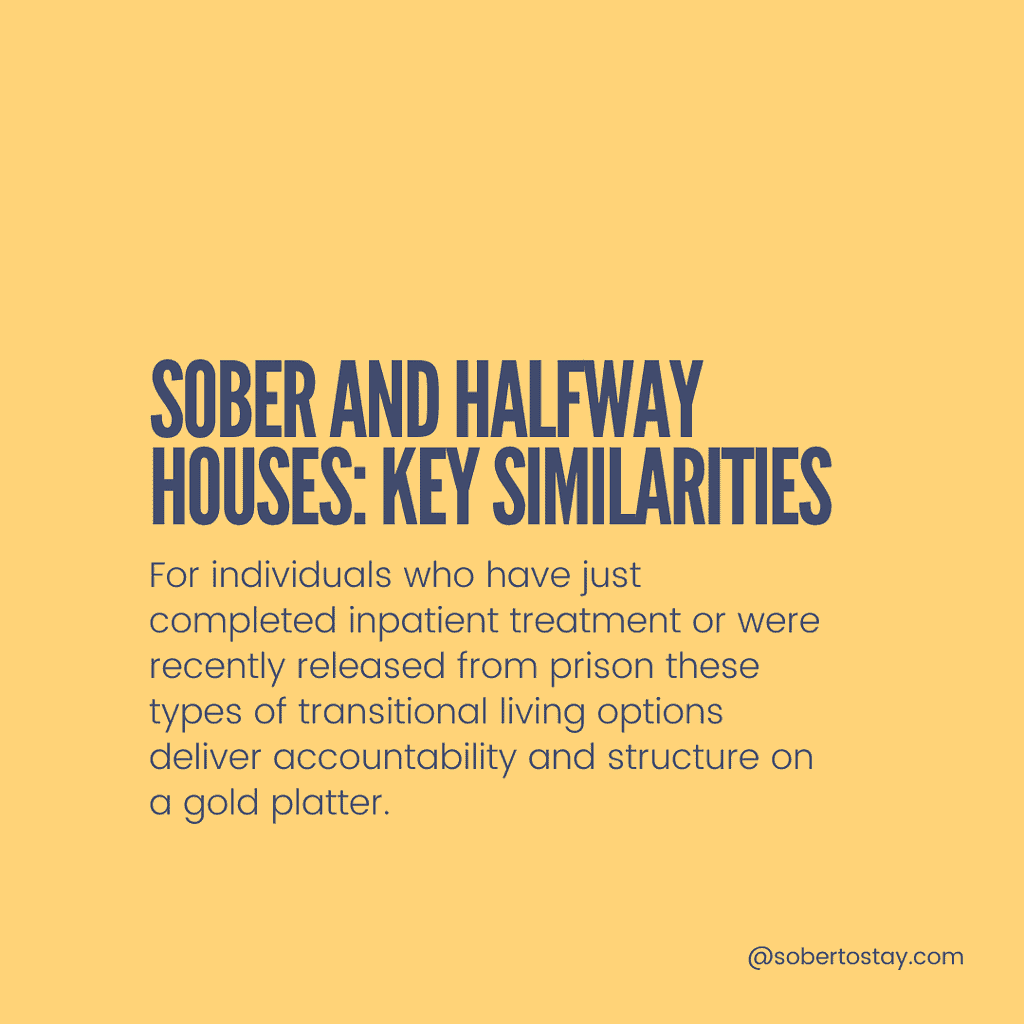 Sober and Halfway Houses: Key Differences
While both have a similar purpose, the differences are many.
The first thing is that halfway houses are designed for individuals being released from prison, often termed halfway homes through the Department of Corrections (DOC) as they are usually sponsored by the state for this capacity.
Additionally, since halfway houses are a 3.1 Level of Care (LOC), they require treatment. Usually, they function somewhat like partial hospitalization in terms of hours of treatment delivered, but they are low-intensity residential programs.
Halfway Houses usually have staff on site such as counselors, medical practitioners, and psychiatrists. Moreover, it's almost impossible to gain entry right off the street, it's almost always a step down from intensive inpatient treatment or some form of incarceration.
Since they are covered by insurance, there is a limit on the amount of time a person can reside there, usually between 3 to 6 months.
Unlike halfway houses, sober living homes often don't require that residents have been incarcerated or actively in treatment. They may create similar stipulations as a halfway house but no government or state oversight mandates it.
The biggest difference is that sober living homes don't place any limits on the time of residency in part because the business sustains by payment from the residents.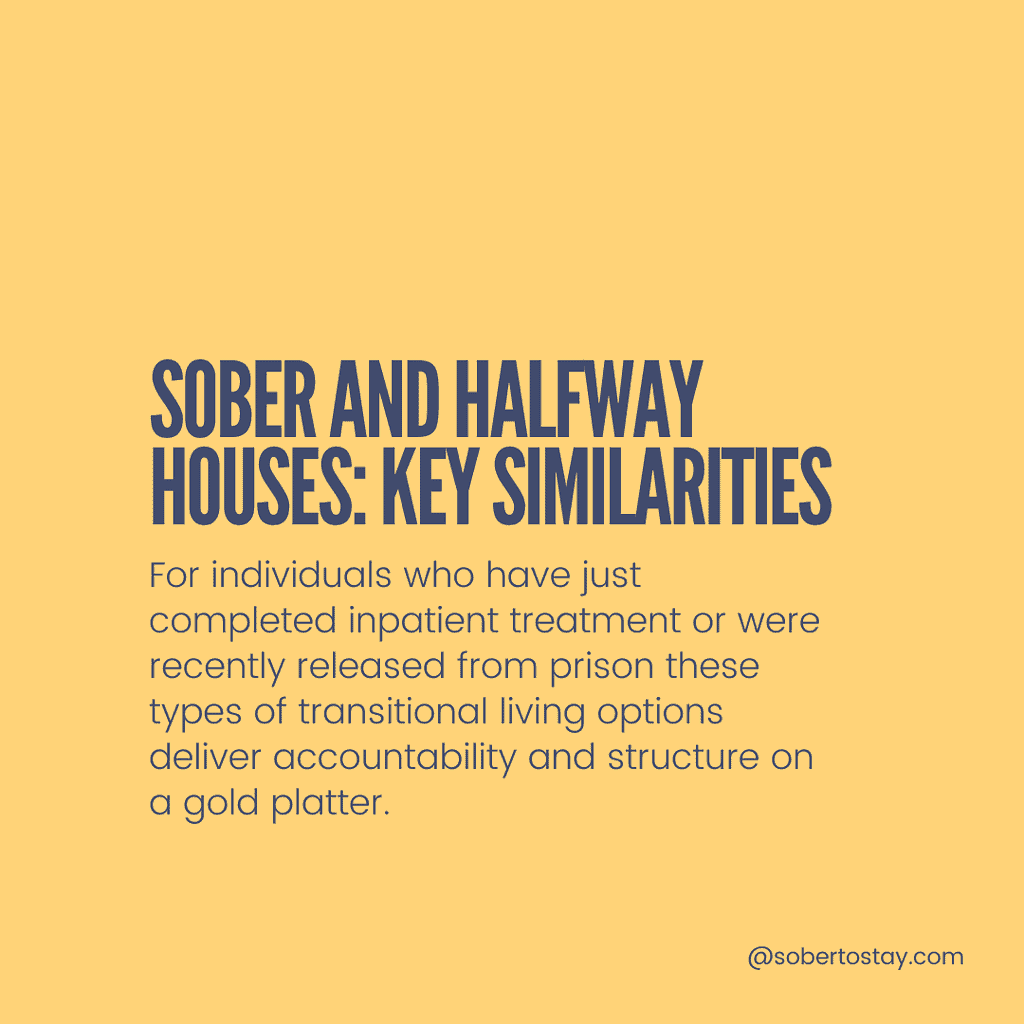 In my opinion, people in recovery require long-term accountability and community support. The added structure and increasing social interest enable newly sober individuals to focus their attention on recovery and re-entry into society rather than the rat race of finding shelter, food, friends, and a niche to contribute.
Since no accredited body provides oversight of sober living homes, they do not offer any type of formal treatment and can frequently be scammy. Some sober houses are only interested in the money and tend to turn into flop houses, riddled with drugs and little sobriety.
If you're considering a sober house I recommend identifying if they belong to some type of accredited agency or coalition designed to monitor health, safety, quality, and adherence to recovery models that emphasize group involvement and peer support.
These types of sober living houses usually require that all residents agree to specific conditions such as abstaining from drugs and alcohol, attending 12-step meetings, mandatory attendance for in-house meetings, obtaining a sponsor, blackout periods upon entry, curfew, unable to sleep off-site for a specific period of time, and being accountable for their whereabouts when not at the sober living home.
One article in the Journal of Psychoactive Drugs, titled "A Clean and Sober Place to Live" concludes, "Sober living houses are an excellent example of an underutilized modality that could help provide clean and sober living environments to individuals completing residential treatment, engaging in outpatient programs, leaving incarceration, or seeking alternatives to formal treatment."
Transitional living homes, ¾ houses, recovery houses, and sober living homes are all interchangeable terms. Proprietors come up with their own definitions and nature of their programs, but all refer to these transitional living options that exist outside the ASAM level of care.
If you're considering treatment and sober living options, I suggest consulting with a physician and clinician prior to any decisions.