Atheist 12 Steps…can they work for you if you're an unbeliever?
A large number of atheists venture into the meetings of Alcoholics Anonymous on a daily basis.
Just like everyone else, they are desperate and dying from addiction.
The disease doesn't discriminate, regardless of personal worldview, philosophical commitments, or creed.
But will the 12 Steps work for an atheist? Are they not religious in nature? This is real debate here.
For starters, the 12 Steps are loosely based on a Christian framework.
Moreover, faith and prayer are two of it's foundational concepts.
The question then remains: can the atheist get sober with the 12 Steps?
Atheists Can 100% Get Sober With The 12-Steps…but there needs to be some changes
The original program operated under the assumption that even if an atheist made the group their Higher Power and started with a modicum of faith and trust in the process, eventually this would result in a belief in God (see Myth number 3 in this article)
This wasn't necessarily the Christian God but just a belief in a Higher Power.
It should be noted that only three modes of thinking existed in the 1930s: Catholicism, Protestantism, and Western Humanism.
The proliferation of Eastern Thought had not really infiltrated the Western world yet.
Once this in fact did occur, the 12 Steps began to be radically reworked and reorganized to reaffirm the initial commitment to inclusivity. 
Specifically making room for those who lack any belief in God.
---
Agnostic/Atheist 12 Step Program
Native American 12 Step Program
---
The founders of the 12 Step program intended to develop a method that could benefit to all who sought sobriety.
Atheists being no exception.
What are the 12 steps for atheists?
AA Agnostica, one of the most popular websites for 12-Step agnostics and atheists, remark that all non-theistic 12 Step programs have developed their own versions and interpretations of the steps. 
Though they differ in degree, they all seem to follow the same foundational principles of the 12 Steps.
The 12 Steps For Atheists:
Admittance – This is an admission that you need help with your addiction.
Belief – This involves understanding and believing that you are worthy of sobriety, and are capable of achieving it.
Desire to Change – This means a willingness to try various things in order to find what will help you.
Self-Inventory – This is where you examine yourself in order to determine what has caused you to become an addict.
Reflection – In this step, you reflect on these negatives in your life, and possibly discuss them with someone else.
Surrender – This means being willing to give up self-destructive thoughts and actions, and end relationships with people that are harmful to your sobriety.
Action – This is where you enact the changes necessary to help you get your life back on track.
List – This is where you list all of the people your addiction has harmed.
Amends – Here, you make direct amends to the people on your list, unless doing so would cause further harm.
Continued Reflection – This step involves regularly re-examining yourself and your life to assure that negative habits are not recurring.
Involvement – This means finding new, positive habits and people to replace the negative ones.
Moral Compass – This means giving back, and otherwise living a clean, kind, and upstanding existence.
These principles form the basis of both the traditional and non-theist 12 steps.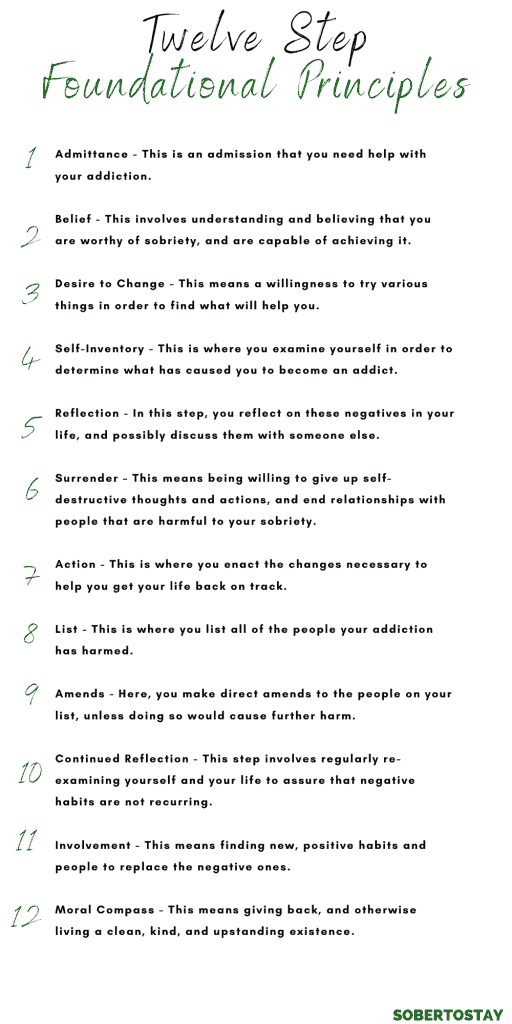 How are the 12 steps for atheists different?
The only obvious difference between the 12 Step programs for atheists and more traditional programs is the absence of any reference to God or prayer. 
The underlying principle, that is the essence, is incredibly similar as can be seen above.
The National Institute on Drug Abuse states that the primary factor in the success of 12 step programs is their function as group therapy.
I don't think there is a instrument to measure the success of God in 12-Step therapy, so theists don't be alarmed.
This study just suggests that the power of the group is sufficient. 
Therefore, whether you believe in God or not the 12 Step program can help you find freedom!
Interested in 12-Step Alternatives?
Not everyone will want to pursue 12 Step recovery due to either an inability to not see the religious framework or solely out of disinterest. We have written an article to that explores and links out to our favorite 12 Step alternatives: Is AA The Only Way? [3 Explosive Alternatives To 12-Step Recovery]
However, below are 6 of the most common 12 Step alternatives. Never stop searching. Find what's right for you!
==> Secular Organizations for Sobriety (S.O.S.)