Accessible, Affordable, and a Life-Changing…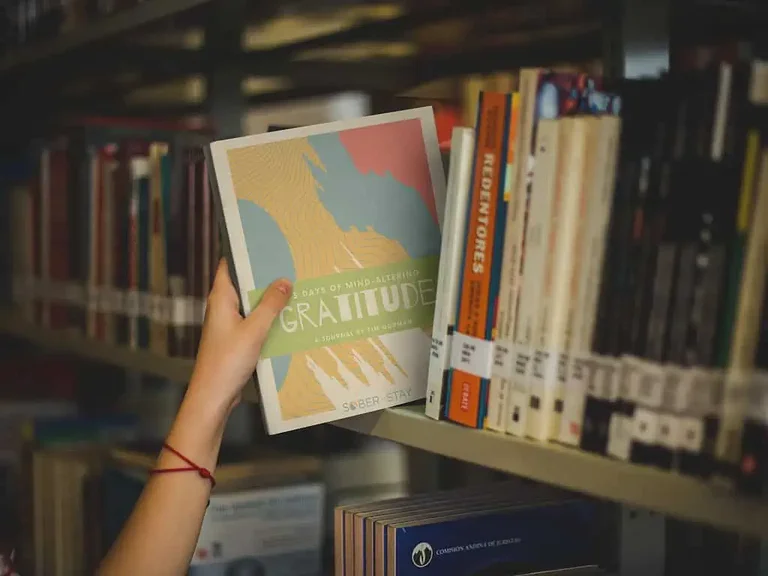 This journal is designed to give you the power to see the good in everything and everyone around you. Its aim is to saturate you with an appreciation of the present moment. Its ultimate goal is to weave within your unconscious the narrative of a hero no matter how difficult the storyline…
Included in 73 Days of Mind-Altering Gratitude is:
145 Insightful Journal Prompts
25 Mind-Sharpening Insights
25 Interactive & Experiential Exercises
25 Radical Quotes
Don't underestimate the power of journaling!
Are you a recovering addict who's struggling to find a way to keep your mind focused on the positive?
Look no further!
Our gratitude journal is the answer to all your problems.
It's incredible, unbelievable, and absolutely necessary.
Alright, alright, maybe that's overkill.
However, I do promise that your life will change drastically after 73 Days of Mind-Altering Gratitude.
With this journal, you can finally say goodbye to those negative thoughts of persistent gut-wrenching impending doomism and focus on what the Romans called "Summum Bonum, a Latin expression meaning the highest or ultimate good.
A philosopher with an ungodly frontal lobe by the name of Cicero notes that this is the aim of all actions, which, if consistently pursued, will lead to the best possible life.
It is our firm belief that barebones gratitude is the doorway that leads to summum bonum.
In other words, we're not just selling you a journal, we're selling you a way of life.
I know that sounds cheesy, but once you see the results from a life directed by gratitude you cannot unsee it.
It creates a revolutionary newness in your perception.
It corrects self-defeating behaviors that alienate you from the chief aim of all your actions, that bar you from the highest good.
Therefore, this obviously isn't some boring, run-of-the-mill diary filled with blank pages waiting to be inked with your free-associated thoughts.
No way!
This journal is filled with prompts, insights, exercises, quotes, and even some silly jokes to make you chuckle.
We intend to indirectly and subtly inject your unconscious with a new attitude and outlook on life.
It's specifically designed for you, a recovering addict, to stay motivated, boost your creativity and critical faculties, and skyrocket your gratitude as you trudge the road to the ultimate good.
Sure, you might think, "Why do I need a gratitude journal when I have recovery meetings and sponsors?"
Well, my friend, let me tell you this.
Our journal will help you keep track of your progress and let you reflect on the good moments that you might miss in your daily hustle and bustle.
Plus, it's a fun and unique way to journal that you won't find anywhere else!
It's a powerful form of hypnosis that enables you to challenge limiting beliefs and effortlessly hurdle life's unending obstacles.
So, what are you waiting for?
Pick up your digital pen and start!
It's solely what little book demands, that you take action.
Indeed, action is the magic word; all that is required is to start and continue.
Who knows, you might just find yourself smiling a little more, feeling a little more at peace, imbibing that serenity you thought you could find in the bottle.
You might find yourself in a whole new world.
Additionally, we've made it as accessible as possible – only $5.
Purchase, download, and edit the PDF on your smartphone. Easy peasy, lemon squeezy.
If you absolutely need a hard copy and are too prideful just to print this one out, it's available on Amazon for $23.
Thanks for letting Sobertostay.com be a part of your recovery journey!
What's Included?
145 Gratitude Insightful Prompts
25 Mind-Sharpening Insights
25 Interactive & Experiential Exercises
25 Radical Quotes
---
Digital Version only $5!
This journal is designed to give you the power to see the good in everything and everyone around you. Its aim is to saturate you with an appreciation of the present moment. Its ultimate goal is to weave within your unconscious the narrative of a hero no matter how difficult the storyline…
Included in 73 Days of Mind-Altering Gratitude is:
145 Insightful Journal Prompts
25 Mind-Sharpening Insights
25 Interactive & Experiential Exercises
25 Radical Quotes