Dr. Carl Jung's Letter To Bill Wilson…and some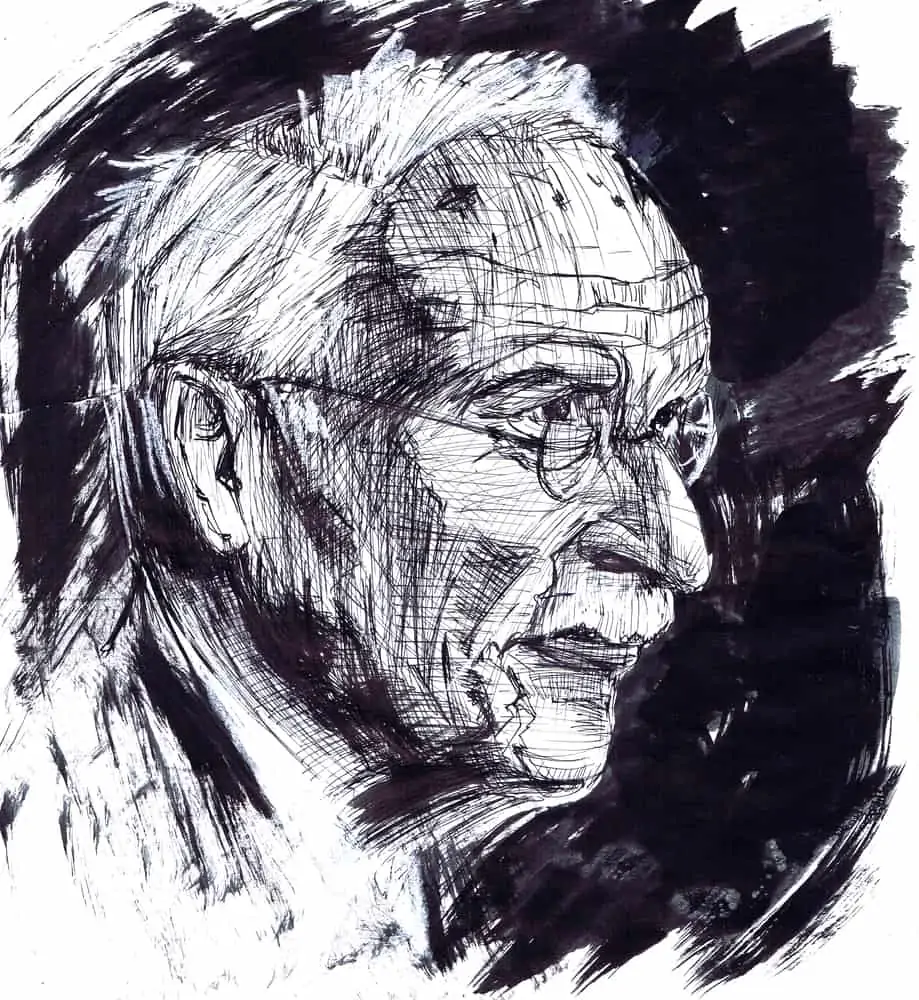 Prof. Dr. C. G. Jung
Kusnacht-Zurich
Seestrasse 228
January 30, 1961
Mr. William G. Wilson
Alcoholics Anonymous
Box 459 Grand Central Station
New York 17, N.Y.
Dear Mr. Wilson,
Your letter has been very welcome indeed.
I had no news from Roland H. anymore and often wondered what has been his fate. Our conversation which he had adequately reported to you had an aspect of which he did not know. The reason, that I could not tell him everything, was that those days I had to be exceedingly careful of what I said. I had found out that I was misunderstood in every possible way. Thus I was very careful when I talked to Roland H. But what I really thought about, was the result of many experiences with men of his kind.
His craving for alcohol was the equivalent on a low level of the spiritual thirst of our being for wholeness, expressed in medieval language: the union with God.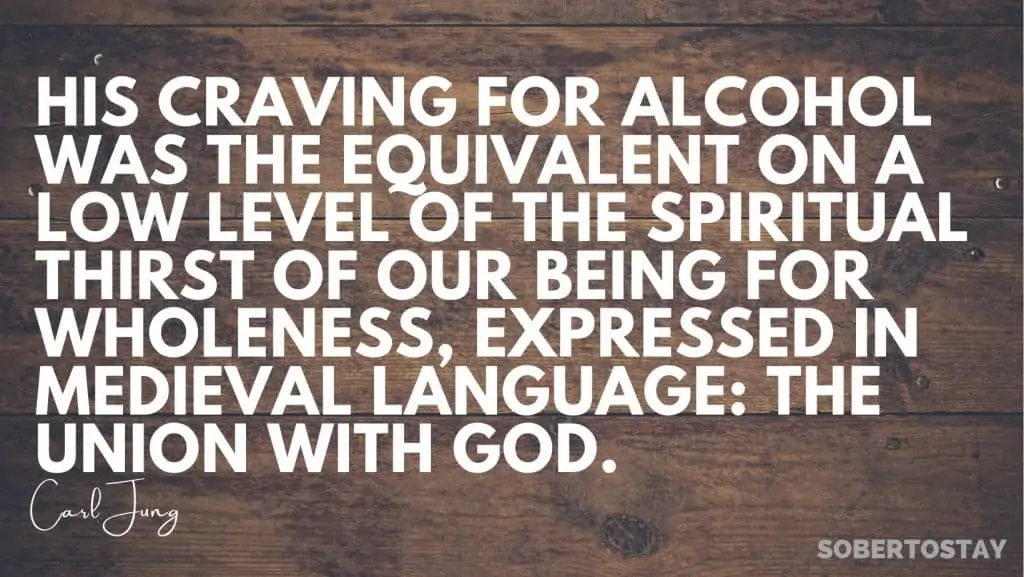 How could one formulate such an insight in a language that is not misunderstood in our days?
The only right and legitimate way to such an experience is, that it happens to you in reality and it can only happen to you when you walk on a path, which leads you to a higher understanding. You might be led to that goal by an act of grace or through a personal and honest contact with friends, or through a higher education of the mind beyond the confines of mere rationalism. I see from your letter that Roland H. has chosen the second way, which was, under the circumstances, obviously the best one.
I am strongly convinced that the evil principle prevailing in this world, leads the unrecognized spiritual need into perdition, if it is not counteracted either by a real religious insight or by the protective wall of human community. An ordinary man, not protected by an action from above and isolated in society cannot resist the power of evil, which is called very aptly the Devil. But the use of such words arouse so many mistakes that one can only keep aloof from them as much as possible.
These are the reasons why I could not give a full and sufficient explanation to Roland H. but I am risking it with you because I conclude from your very decent and honest letter, that you have acquired a point of view above the misleading platitudes, one usually hears about alcoholism.
You see, Alcohol in Latin is "spiritus" and you use the same word for the highest religious experience as well as for the most depraving poison. The helpful formula therefore is: spiritus contra spiritum.
Thanking you again for your kind letter
I remain yours sincerely,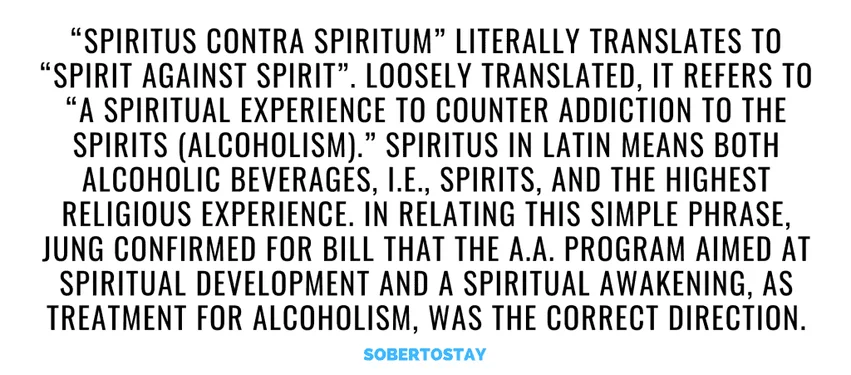 More of Carl Jung & Bill Wilson
==>Click below to read the entire exchange between the two in a 1963 issue of The Grapevine.
==>Check out our favorite Carl Jung quotes!
==>Check out our thoughts on Carl Jung's famous thoughts on archetypes and the human psyche!
---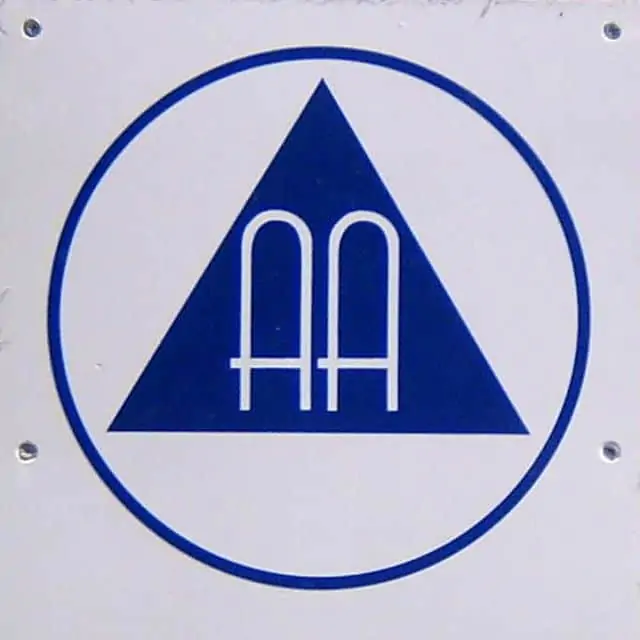 Setting The Context For The Letter From Dr. Carl Jung To Bill Wilson
Who Is Roland H?
In the Big Book of Alcoholics Anonymous, Roland Hazard's story is described in some detail. Page 26-27 provides some context to the letters exchanged between Bill Wilson and Carl Jung.
A certain American business man had ability, good sense, and high character. For years he had floundered from one sanitarium to another. He had consulted the best known American psychiatrists. Then he had gone to Europe, placing himself in the care of a celebrated physician (the psychiatrist, Dr. Jung) who prescribed for him.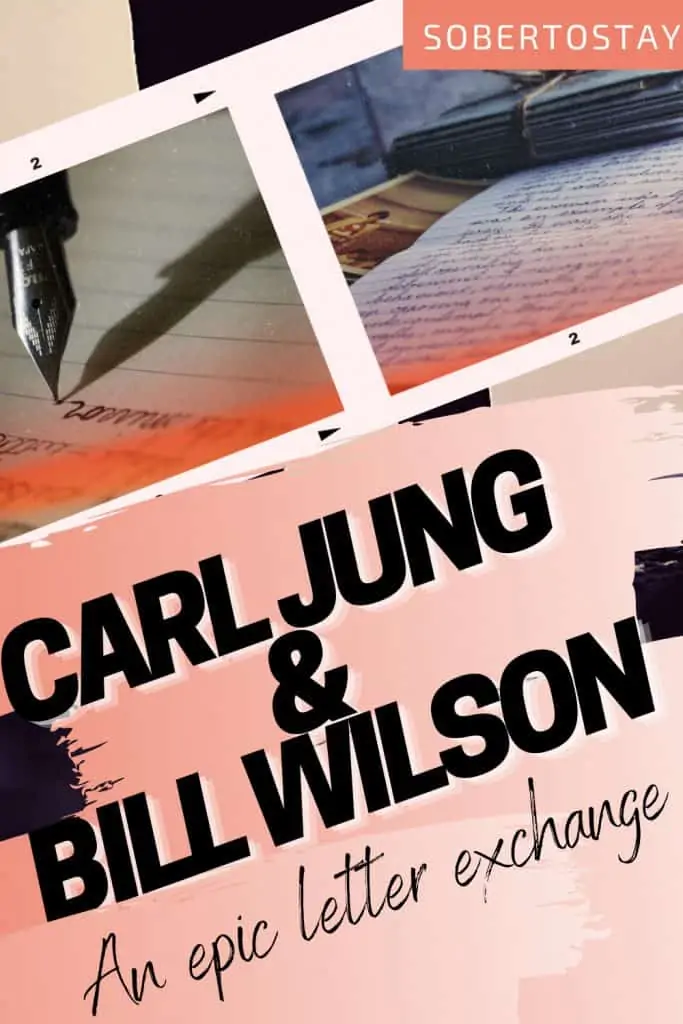 Though experience had made him skeptical, he finished his treatment with unusual confidence. His physical and mental condition were unusually good. Above all, he believed he had acquired such a profound knowledge of the inner workings of his mind and its hidden springs that relapse was unthinkable. Nevertheless, he was drunk in a short time. More baffling still, he could give himself no satisfactory explanation for his fall.
So he returned to this doctor, whom he admired, and asked him point-blank why he could not recover. He wished above all things to regain self-control. He seemed quite rational and well-balanced with respect to other problems. Yet he had no control whatever over alcohol. Why was this?
He begged the doctor to tell him the whole truth, and he got it. In the doctor's judgment he was utterly hopeless; he could never regain his position in society and he would have to place himself under lock and key or hire a bodyguard if he expected to live long. That was a great physician's opinion.
But this man still lives, and is a free man. He does not need a bodyguard nor is he confined. He can go anywhere on this earth where other free men may go without disaster, provided he remains willing to maintain a certain simple attitude.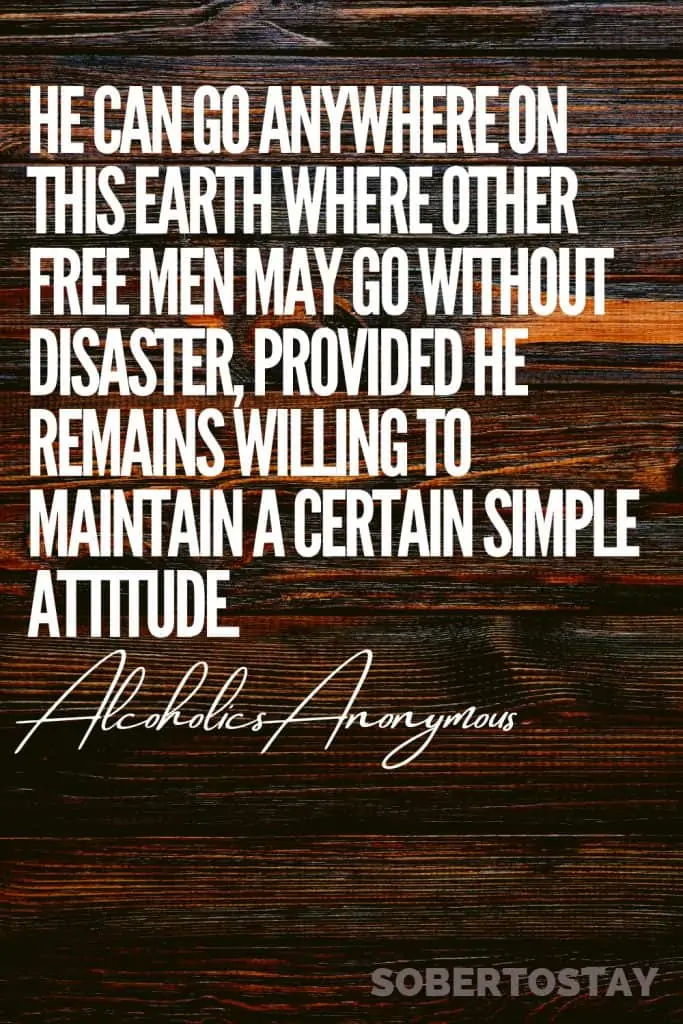 Some of our alcoholic readers may think they can do without spiritual help. Let us tell you the rest of the conversation our friend had with his doctor.
The doctor said: "You have the mind of a chronic alcoholic. I have never seen one single case recover, where that state of mind existed to the extent that it does in you." Our friend felt as though the gates of hell had closed on him with a clang.
He said to the doctor, "Is there no exception?"
"Yes," replied the doctor, "there is. Exceptions to cases such as yours have been occurring since early times. Here and there, once in a while, alcoholics have had what are called vital spiritual experiences. To me these occurrences are phenomena. They appear to be in the nature of huge emotional displacements and rearrangements. Ideas, emotions, and attitudes which were once the guiding forces of the lives of these men are suddenly cast to one side, and a completely new set of conceptions and motives begin to dominate them.
In fact, I have been trying to produce some such emotional rearrangement within you. With many individuals the methods which I employed are successful, but I have never been successful with an alcoholic of your description."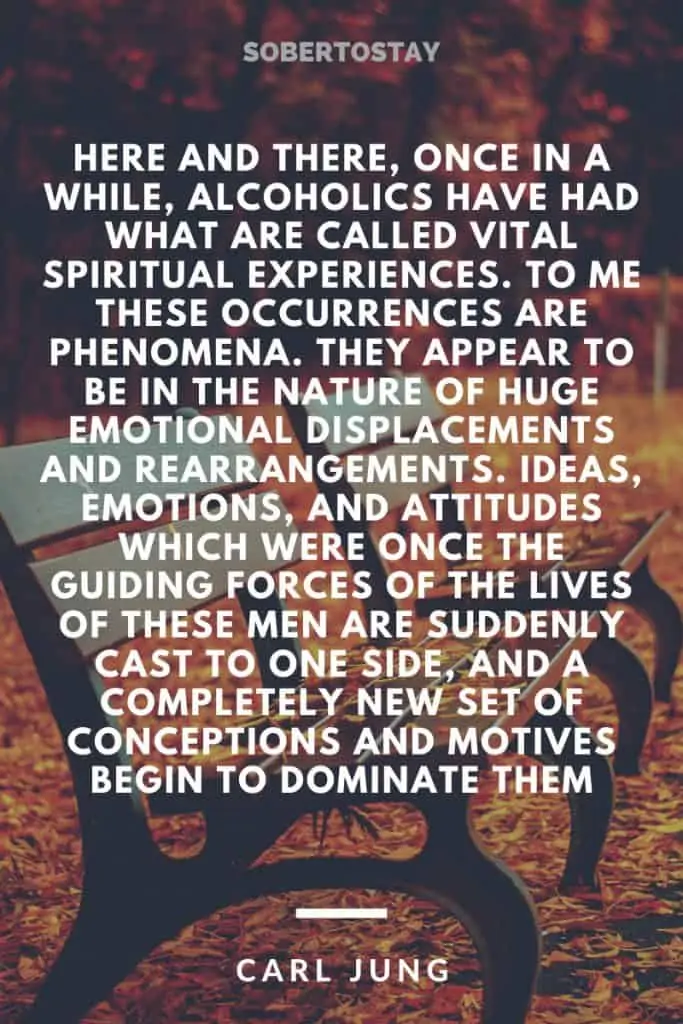 Upon hearing this, our friend was somewhat relieved, for he reflected that, after all, he was a good church member. This hope, however, was destroyed by the doctor's telling him that while his religious convictions were very good, in his case they did not spell the necessary vital spiritual experience.
Here was the terrible dilemma in which our friend found himself when he had the extraordinary experience, which as we have already told you, made him a free man.
We, in our turn, sought the same escape with all the desperation of drowning men. What seemed at first a flimsy reed, has proved to be the loving and powerful hand of God. A new life has been given us or, if you prefer, "a design for living "that really works.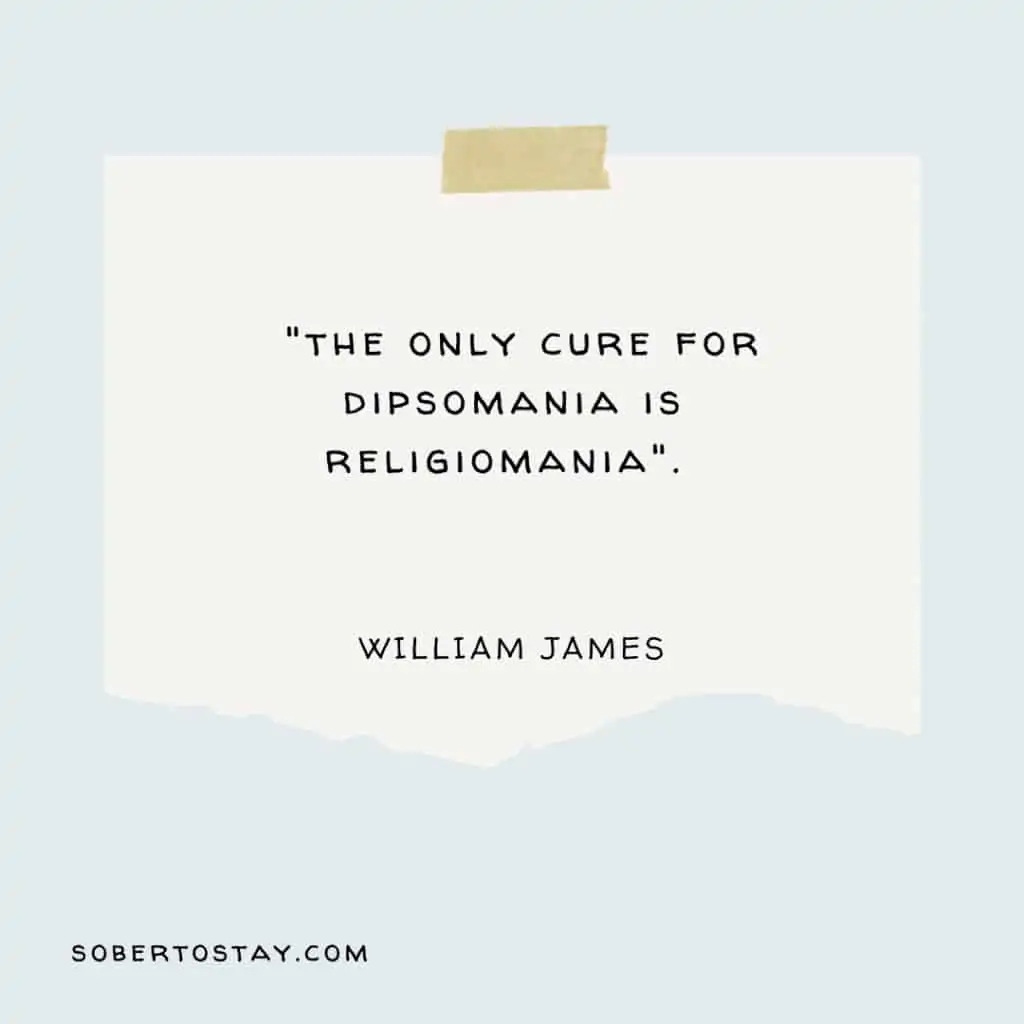 What Is A Spiritual Experience?
In the "A Spiritual Experience" appendix of Alcoholics Anonymous, they describe the term precisely. There was just as much confusion about the idea back in the 1930s as there is the current day, so they sought to clarify. This, too, shall provide further context to the letter.
The terms "spiritual experience" and "spiritual awakening" are used many times in this book which, upon careful reading, shows that the personality change sufficient to bring about recovery from alcoholism has manifested itself among us in many different forms.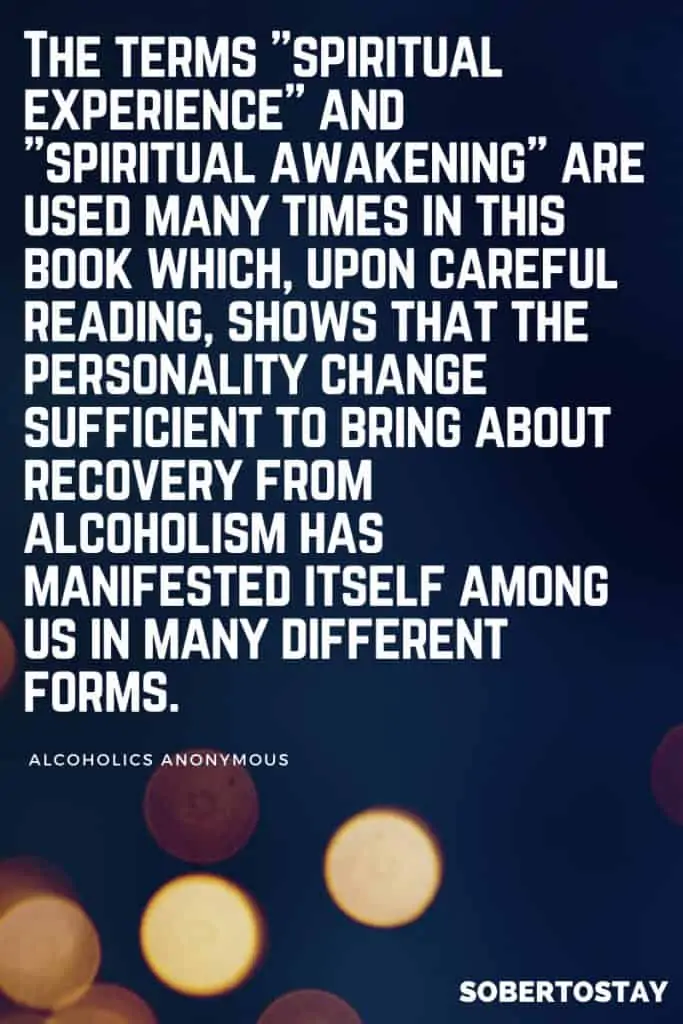 Yet it is true that our first printing gave many readers the impression that these personality changes, or religious experiences, must be in the nature of sudden and spectacular upheavals. Happily for everyone, this conclusion is erroneous.
In the first few chapters a number of sudden revolutionary changes are described. Though it was not our intention to create such an impression, many alcoholics have nevertheless concluded that in order to recover they must acquire an immediate and overwhelming "God-consciousness" followed at once by a vast change in feeling and outlook.
Among our rapidly growing membership of thousands of alcoholics such transformations, though frequent, are by no means the rule. Most of our experiences are what the psychologist William James calls the "educational variety" because they develop slowly over a period of time. Quite often friends of the newcomer are aware of the difference long before he is himself. He finally realizes that he has undergone a profound alteration in his reaction to life; that such a change could hardly have been brought about by himself alone.
What often takes place in a few months could hardly be accomplished by years of self-discipline. With few exceptions our members find that they have tapped an unsuspected inner resource which they presently identify with their own conception of a Power greater than themselves.
Most of us think this awareness of a Power greater than ourselves is the essence of spiritual experience. Our more religious members call it "God-consciousness."
Most emphatically we wish to say that any alcoholic capable of honestly facing his problems in the light of our experience can recover, provided he does not close his mind to all spiritual principles. He can only be defeated by an attitude of intolerance or belligerent denial.
We find that no one need have difficulty with the spirituality of the program. WILLINGNESS, HONESTY AND OPEN MINDEDNESS ARE THE ESSENTIALS OF RECOVERY. BUT THESE ARE INDISPENSABLE.
"There is a principle which is a bar against all information, which is proof against all arguments and which cannot fail to keep a man in everlasting ignorance– that principle is contempt prior to investigation."
–HERBERT SPENCER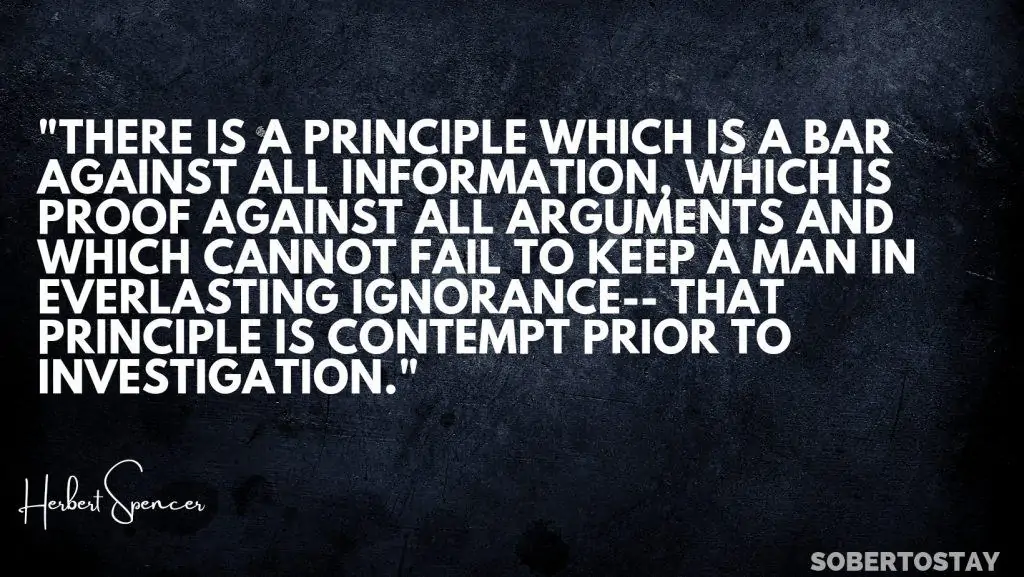 Concluding Thoughts
An entire book could be written commenting on the above. Rather than provide commentary, which I have done elsewhere, I'd rather leave you with something to reflect on.
So take the deep dive.
From the prescription pad of Dr. Bob,